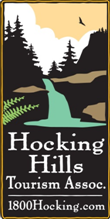 With the hustle and bustle of the holiday season, we're finding more and more visitors come to the Hocking Hills to really relish the season; reconnect with family and friends; and recharge from overscheduled lives.
Logan, OH (PRWEB) November 21, 2011
As stores and malls continue to fill with products and customers this holiday season, the Hocking Hills region has created a number of travel packages and special deals for shoppers looking to get away from the crowds to reconnect with family and friends. Sharing travel opportunities with loved ones is a unique gift alternative that allows recipients to unwrap a more relaxing, rejuvenating experience that will be remembered for years to come. Ohio's Hocking Hills offers a variety of travel opportunities sure to fit the recipients on any gift giver's list this holiday season.
"With the hustle and bustle of the holiday season, we're finding more and more visitors come to the Hocking Hills to really relish the season; reconnect with family and friends; and recharge from overscheduled lives," said Karen Raymore, Executive Director of the Hocking Hills Tourism Association. "In any season, Hocking Hills offers the chance for its visitors to make unforgettable memories and planning a holiday or winter getaway is a great way to start a new tradition in a stunning natural setting."
Highlights of the travel packages and specials that are available in the Hocking Hills are below.
For the Outdoor Lover
Hocking Hills Hikers Package: Created with accommodations at Hocking Hills Cabins, outdoors adventurers will appreciate this one-night package that includes walking sticks, a local trail map and a souvenir backpack to carry the complimentary brown bag lunch. After an exhilarating hike, guests will enjoy a Royal Foot Treatment from Blue Valley Massage & Traveling Spa and dinner at The Spotted Owl Cafe. Package price begins at $306 for two adults.
For the Pampered Traveler
Relax, Recharge, & Reconnect Package: What better way to pamper a loved one than with the Relax, Recharge & Reconnect package at Love Shack Cabins? The package features a two-night stay; complimentary bottle of wine or champagne; and an in-cabin, side-by-side couples massage and hot stone treatment. Guests will also enjoy a 3-course gourmet meal at Grouse Nest Restaurant. Packages start at $550 per couple.
Get Snowed In: Delight in the beauty of a Hocking Hills winter with a two-day weeknight special at Cabins by the Caves. Upon arrival, guests will be treated to a dozen roses and Anthony Thomas truffles to set a pampered mood. This package also includes complimentary breakfast and an opportunity to really rejunvenate with a late checkout. Packages start at $325 and can be upgraded to accommodations in a luxury lodge.
Fantastic Holiday Savings
Cold Days, Hot Savings: For a special deal that includes the family – even the pet! – Honey Ridge is offering a 10 percent discount for stays at this two-bedroom cottage. The property is close to pet-friendly trails that are fun for the whole family. Rates start at $106 per night.
Holiday Special: Now through December 28, Big Pine Retreat is taking 10 percent off any two-night stay or 20 percent off any stay of three or more nights. Tucked away on 40 acres of private property, the cabins at Big Pine Retreat can accommodate groups of up to 10. Nightly rates begin at $145 prior to discounting and guests should mention "Holiday Special" when making reservations.
End of Year Weekday Special: Perfect for the entire family, Four Seasons Hideaways offers accommodations for up to 14 guests. Through the end of 2011, Four Seasons Hideaways is offering a free third night with every two nights booked on trips between Sunday and Thursday. Rates start at $399 per night.
For more information about visiting Hocking Hills, check out 1800hocking.com, like the Hocking Hills Tourism Association on Facebook, follow us on Twitter or join the conversation on the Hocking Hills blog.
About the Hocking Hills Tourism Association
Located 40 miles southeast of Columbus, Ohio, Hocking Hills offers once-in-a-lifetime experiences that make every day feel like Saturday, with plenty of free activities. The region boasts a wide variety of affordable lodging options, from camping, cabins and cottages to hotels and country inns. In addition to numerous hiking trails, parks and forests, the Hocking Hills area offers unique gift and antique shops, canoeing, horseback riding, golf and more. Complete traveler information on accommodations, festivals and the many sites in the Hocking Hills region is available at 1800Hocking.com or toll-free at 1-800-Hocking (800-462-5464).
###