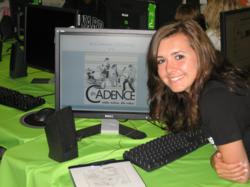 A new course debuting this summer, Graphic Design for Advertising, was created with artistic and tech-curious girls in mind.
Campbell, CA (PRWEB) May 27, 2011
iD Tech Camps, an industry leader in summer technology education, will debut new classes to lessen the STEM gender gap this summer.
Women earn a shockingly low 20% of bachelor's degrees in STEM fields such as physics, engineering and computer science. Concerned about the gender gap, the American Association of University Women published a comprehensive study in 2010 identifying key factors that contribute to the problem: (1) girls' low self-assessment of their STEM skills and (2) dry STEM course work that tends towards the purely technical.
Recommendations for educator action include involving girls in STEM subjects early and emphasizing the real-life applications of STEM subjects. Nontraditional education options like hands-on, technology-focused university summer camps are a fun way to combine both proposals into an eye-opening experience for girls.
iD Tech Camps, co-founded by a mother and daughter pair, plans to specifically target the STEM gender gap this summer with a creative new class in graphic design. The education company holds weeklong day and overnight programs for students ages 7-18, with courses in fields like video game design, iPhone® app development, robotics, filmmaking, photography and web design. A new course debuting this summer, Graphic Design for Advertising, was created with artistic and tech-curious girls in mind.
The graphic design course emphasizes the creative side of technology and introduces students to useful software programs in a fun, engaging environment. Those enrolled learn advanced skills in Photoshop® and Illustrator® while using industry-standard tools like Wacom® pen-tablets. The small class sizes guaranteed by iD Tech Camps – average 6, maximum 8 – are ideal for fostering creativity along with tech skills. As in all iD courses, students complete a final project each session, helping them put their skills to practical use and see the real-life applications of technology.
Why should girls get excited? iD Tech Camps summer programs have had great success in inspiring female students in the past. Many iD alumnae have gone on to do amazing things – Katherine learned 3D animation at iD Tech Camps UCLA summer camps and used her Maya® skills to create short films once she returned to school. Her teacher encouraged her to enter a statewide youth film competition, and she ended up winning 1st place and "Best of Show" for her work.
Karen, another iD Tech Camps student, learned Photoshop and used her skills to step into a leadership position as Art Chief for her school's literary magazine. Now she teaches other students in class how to use the program, and she has even surpassed her teacher in knowledge – her photography teacher refers all Photoshop questions to Karen, who she says knows the program better than she does.
Both girls are inspiring examples of STEM education leading to real-life applications and motivating career plans – Katherine hopes to one day work at Pixar as an animator and Karen dreams of becoming a photojournalist. With the right early STEM education, iD Tech Camps hopes to propel the girls' female peers into joining their ambitious career planning after this summer.
About iD Tech Camps And iD Teen Academies
iD Tech Camps is the World's #1 provider of summer computer camps and technology camps for kids and teens summer fun, with programs held at 60 elite universities in the U.S. Locations include Stanford, Princeton, Harvard, UCLA and other prestigious universities nationwide. Over the past thirteen years, over 120,000 students ages 7-18 have participated in the iD programs. Students create iPhone® apps, 2D and 3D video games, websites with Flash®, C++ and Java programs, 3D models and animations with Maya®, digital photography, filmmaking, robots and more. There are also 2-week Teen Academies: iD Gaming Academy, iD Programming Academy and iD Visual Arts Academy. Visit http://www.internalDrive.com or call 1-888-709-TECH (8324) for more information.
###