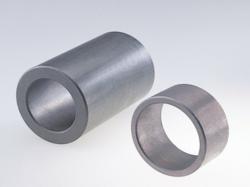 Yonkers, NY (PRWEB) June 10, 2011
Graphite Metallizing Corporation announces additional sizes of the GRAPHALLOY® 453 Family of Self-Lubricating Bushings. These bushings are for severe industrial applications where temperatures reach 750 degrees F (400 degrees C) or higher. GRAPHALLOY, a graphite/metal alloy, bushings are designed to operate without lubrication.
The 453 Bushings have proven to be successful in a variety of high temperature applications including bakery ovens, heat treat ovens, furnaces, conveyors, overhead paint lines, glass lehrs, louvers, dampers, valves as well as other environments where oil and grease cannot be used. Applications can experience improved performance through the use of GRAPHALLOY materials.
Among their many advantages, GRAPHALLOY bushings operate at longer intervals without the need for maintenance, which reduces costly downtime. They are an excellent choice for applications where service and maintenance tasks are cumbersome or difficult to perform.Additional benefits of GRAPHALLOY include a low coefficient of friction and dimensional stability.
The 453 Bushings, like all GRAPHALLOY products, do not soften at high temperatures or extrude under load. Installations of these bushings have operated for more than 10 years without maintenance.
GRAPHALLOY 453 Bushings are a proven solution for the most challenging plant maintenance and new equipment design.
About Graphite Metallizing Corporation
Used in the manufacture of bushings, bearings and other components for machinery and process equipment, GRAPHALLOY materials are self-lubricating, impervious to temperature extremes (from -400°F to +1000°F/-240°C to 535°C) and thrive in harsh environments where other bearings fail.
GRAPHALLOY, a graphite/metal alloy, is a unique self-lubricating bearing material that offers superior performance in hundreds of mechanical and electrical applications. These standard and custom designed products provide lifetime cost savings and significant operating advantages over conventional bushings and bearings. To learn more about the unique features of GRAPHALLOY, see The GRAPHALLOY Advantage.
GRAPHALLOY can be the solution to the toughest bearing, bushing, thrust washer, cam follower, or pillow block bearing design problem. It is available in over 100 grades with specific properties that meet a wide range of engineering solutions and specifications. FDA accepted grades of GRAPHALLOY are available for food contact equipment. NSF® International certified two grades of GRAPHALLOY material for use in municipal well pumps and water treatment plant applications.
In some applications, GRAPHALLOY bearings have operated for up to 20 years without maintenance. Standard designs are available but most GRAPHALLOY products are custom designed to the unique requirements of the specific application.
Graphite Metallizing Corporation is ISO certified and has produced GRAPHALLOY since 1913. For additional information about Graphite Metallizing and its products, please visit us online at http://www.graphalloy.com or call 914-968-8400.
Eric Ford
eric(dot)ford(at)graphalloy(dot)com
###