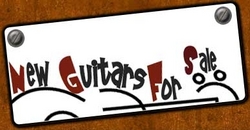 We want the new site to be the very first step people take when buying new guitars, bases, amps, and any other musical products they have in mind
Quinebaug, CT (PRWEB) April 5, 2011
New Guitars For Sale recently launched a complete re-design and overhaul of their former website with a stunning new and fun look. The new website promises a much better experience for its users in more ways than just a funky new design.
"We wanted to get away from that formal Guitar Store website look, and instead present our visitors with a fun and easy way to shop for guitars online." Said CEO Elliot Webb.
The new website offers new features that include Facebook integration to let you comment on guitar deals and other promotions, as well as the opportunity to share guitar knowledge with other Facebook guitarists.
A Twitter button has also been added that gives you access to ask any questions you may have before you make a purchase, live. And they also implemented Google Maps so that visitors can take advantage of Guitar Centers "Buy online, pick up in store offer."
"If visitors decide to preview a guitar sold by Guitar Center on our website, they will also be presented with a local Google Map so they get to see where they can pick up their guitars/gear after they make a purchase via our store. This means they get to lock into the online savings, and get to try out their new purchase using the expertise of the Guitar Centers local store associates."
With it's visitors user experience at the front of the re-design check list, New Guitars For Sale have made the site not only quicker, but much easier to find the best guitar deals online.
If you complete a search for a guitar from the homepage, you are presented with the results in what seems like no time at all. With the results displayed you now get to look over the deals, prices, and models to make sure you get the lowest possible price for your guitar online. You can even click on a single product to compare prices on specific models from all the biggest online Guitar stores.
The site is loaded with all major guitar brands like Fender, PRS, Martin, and of course it has Gibson guitars for sale. Many other brands and products are also included in the new website from guitar strings, to cases, even guitar shirts gets it very own page this time around.
"We want the new site to be the very first step people take when buying new guitars, bases, amps, and any other musical products they have in mind. There is nothing as bad as buying something online and then finding out you could have got it cheaper if you did a little more research. New Guitars For Sale take the time out of the research for you, so you can be sure you get the best possible deals online.", Said Elliot.
The new website is now live and gaining in popularity from guitarists all over the world. It really has brought web2.0 and social media into the guitar buyers market in a big way.
"The design is very different from the norm, you could almost call it funky. But its our way of breaking out of the standard look and feel of online guitar shopping by making it super fun and easy, and so far, the feedback has been amazing(no pun intended)" Said site designer Gary.
To see the new website in action visit New Guitars For Sale today.
###