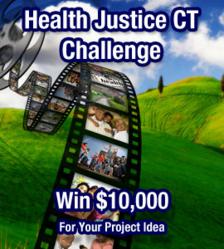 We look forward to hearing ideas and proposals from Connecticut residents that have innovative solutions that that can ultimately result in a healthier Connecticut
Hartford, CT (PRWEB) December 02, 2011
Today, Health Justice CT, an initiative focused on the issue of racial and ethnic disparities, announces the Health Justice CT Challenge. The Health Justice CT Challenge is an innovative competition for individuals and organizations to creatively share their ideas and program proposals to address health disparities in Connecticut.
The Health Justice CT Challenge is a two-step application process: a detailed online program proposal and an accompanying short YouTube video submission (three minutes or less) that answers the following questions:
1. What does health justice mean to you?
2. What specific health justice issues do you see in your community?
3. What specific proposal do you have to address this issue?
4. How will you achieve this?
Videos will be accepted in any form: including music video, PSA, short film, video blog, and interview.
"There are many factors that can impact a person's health: environment, housing, transportation, income, language barriers, education, race, ethnicity, and more," stated Heang Tan, program manager, Health Justice CT. "We look forward to hearing ideas and proposals from Connecticut residents that have innovative solutions that that can ultimately result in a healthier Connecticut," continued Tan.
For further information and to apply for the Health Justice CT Challenge, please visit: http://www.healthjusticect.org/challenge.
About Health Justice CT:
Health Justice CT is an initiative designed to use social media as the foundation for creating a movement of Connecticut residents dedicated to working together to raise awareness about the issue of racial and ethnic disparities, find innovative solutions, and ultimately achieve health justice for everyone in Connecticut. The project is funded by the Connecticut Health Foundation (CT Health) and is being managed by the foundation's grantee, the Society for New Communications Research. To join the conversation, find us on Facebook (http://www.facebook.com/healthjusticect) and Twitter (http://www.twitter.com/healthjusticect).
###