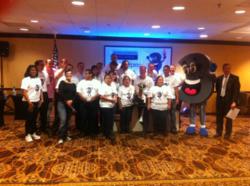 The games were designed to create a competitive spirit and demonstrate appreciation for the team members. Everyone wins gold for their effort
Bethesda, MD (PRWEB) September 21, 2011
This year, International Housekeeper's Week, was from Monday, September 12 through Sunday, September 18. In honor of International Housekeeper's Week, housekeeping teams from each of WashDCHotels' 14 hotels in the DC Metro Area participated in the 4th Annual B. F. Saul Company Housekeeping Olympics on Friday, September 16, 2010.
Individuals and teams competed in several housekeeping events that measured skill and timeliness. The Crowne Plaza Tysons Corner hotel, one of the featured properties of WashDCHotels, was proud to host this event for the fourth year in a row. In addition to a "Spirit Award" to the most vivacious hotel team, Gold, Silver, and Bronze medals were awarded to hotel team with the most overall points.
This year's events consisted of:

Toilet Bowl Basketball – In this individual event, each hotel entered one contestant to participate in this event. Each contestant had 60 seconds to toss as many rolls of toilet paper he or she can into a toilet bowl 20 feet away. The contestant with the most "baskets" wins 50 points for his or her hotel, with the follow up contestants receiving fewer points for their respective hotels.
General Managers' Bed Making Race – General Managers from each of the B. F. Saul hotels in the Washington DC area competed in this race to make a bed (including triple sheeting, pillows and pillowcases, and comforter/duvet) in four minutes. Beds were judged by the two of the B. F. Saul Company's corporate team members, with assistance from some of most senior housekeepers from the competing hotels.
Obstacle Course Relay – This three-part timed relay consisted of speed towel folding, tossing turn-down service candy on to a bed pillow, and a soap toss. Two contestants from each team started by folding several sets of towels on a dresser. Once completed, the next team member quickly tossed bedside candy on to a pillow from the foot of the bet. And in the final relay, a contestant had to toss a shower bar of soap into a small waste basket from 20 feet away.
Mark Carrier, President of B. F. Saul Company Hospitality Group, a DC based hotel ownership and management group, stated, "We started this four years ago and it has been a huge hit, both with our managers and our housekeepers, ever since. The games were designed to create a competitive spirit and demonstrate appreciation for the team members. Everyone wins gold for their effort and enthusiasm."
This year, the TownePlace Suites by Marriott Dulles Airport hotel located in Sterling, VA won the Housekeeping Olympics overall. The TownePlace Dulles' General Manager, Dave Moran, boasts, "our housekeeping team takes a lot of pride in their work, and they are very proud of this year's gold medal performance." It's no coincidence that the TownePlace Suites Dulles was recently named one of top hotels in the TownePlace brand at Marriott's GM conference earlier this year. In addition, Dave Moran was named General Manager of the year!
Video clips of the event can be viewed on WashDCHotels's Facebook page.
About WashDCHotels.com
Based in Bethesda, MD, WashDCHotels.com is a DC destination and tourism site for the B. F. Saul Company Hospitality Group, a subset of a larger, private real estate firm, B. F. Saul Company. Within the Hospitality Group the company represents a collection of full service, select service, and extended stay hotels located in MD, VA, MI and FL. WashDChotels.com serves both business and leisure guests seeking first class DC hotel accommodations, Washington, D.C. area meeting facilities, and banquet venues. The company also operates two IACC Certified Northern Virginia Executive Conference & Training Centers. To learn more about the B. F. Saul Company Hospitality Group go to http://www.bfsaulhotels.com
###