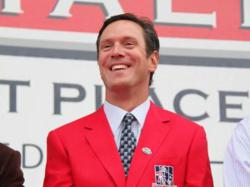 There are inspirational stories in football at every level, but nothing matches the purity of heart and desire of a high school athlete determined to overcome all obstacles...
Bend, OR (PRWEB) September 20, 2011
As the high school football season kicks off around the nation, many families come together to watch the inspirational and uplifting movie RUDY, based on the true life story of Daniel 'Rudy' Ruettiger and his dream of playing football for the University of Notre Dame. Inspireum, along with the Trusted Sports Foundation, has taken Rudy's dream another leap forward, by honoring those players who inspire others to 'get and stay in the game'. With $25,000 in college academic scholarships awarded each year, this 'feel good' program searches for nominees from around the nation, and honors them for their commitment to excellence, oftentimes in the face of personal challenges. Drew Bledsoe, former New England Patriots star and four-time Pro Bowl quarterback is the Chairman of the national Selection Committee.
Dallas Cowboys quarterback legend Troy Aikman and former New England Patriots linebacker, Tedy Bruschi, both three-time Super Bowl Champions, are new additions to the national Selection Committee charged with determining the most inspirational high school player in America. They join other notable sports personalities such as Leigh Anne Tuohy, mother of Baltimore Ravens player Michael Oher and inspirational figure of the film The Blind Side; Shaun Alexander, former Seattle Seahawks running back and NFL MVP; and award winning reporter of HBO's Real Sports, Andrea Kremer. Since the program's launch in 2009, nominees have received over 5 million votes, and their stories have inspired others to – in the famous words of Rudy – 'Dream Big, and Never Quit'.
Leading into the third year, Inspireum Founder & CEO John Ballantine likens the awards to their inspirational leader's famous journey. "Rudy never gave up, he never quit," said Ballantine. "Many of our nominees are facing overwhelming challenges, yet they turn up to every practice, showing such deep love of the game as they inspire their teammates to work harder and be better individuals on and off the field. Their courageous and uplifting stories connect on a deep level within their communities, and with everyone who learns about them. It's an honor to share their stories with America."
The awards were launched in 2009 and have placed the spotlight on over 700 players with the Trusted Sports Foundation bestowing over $50,000 in college academic scholarships to high school football players. Twelve finalists will share $25,000 in scholarships, with the winner receiving a $7,500 college scholarship. Chance Anthony, 2010 High School Football Rudy Award winner currently attending East Kentucky University, aims to follow in his father's footsteps to become a State Trooper. Anyone can nominate the 'Rudy' on their team at http://www.HighSchoolRudyAwards.com starting September 15. Images and video can also be uploaded, and are encouraged. Online voting commences September 30 and continues after the Top 50 semifinalists are announced on November 1. The Top 12 are then chosen on December 11 and the winner, four runners-up and one fan favorite are announced on January 15, 2012. The awards ceremony takes place in the winner's high school in February.
About Inspireum
Inspireum is a social enterprise dedicated to rewarding outstanding youth achievement that inspires the next generation and strengthens our communities. We discover, amplify, and celebrate stories of youth that overcome adversity and inspire others to achieve. Our technology, programs, and financial resources provide the inspiration, motivation, and opportunity for youth to engage in sports and service as hands-on, action-oriented paths to leadership, academic performance and healthy lifestyles. In partnership with the Trusted Sports Foundation we work to inspire and empower all youth, regardless of socio-economic status, to thrive in life through positive sports experiences.
###