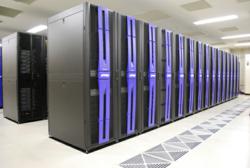 Derek Gaston, a Computational Applied Mathematician who worked on the fuel rod project, said Fission already is advancing nuclear energy research at INL.
Milpitas, CA (PRWEB) May 18, 2011
Appro (http://www.appro.com), a leading provider of supercomputing solutions, today announced the final installation of a new 12,512-processor core Appro Xtreme-X™ supercomputer at the Idaho National Laboratory (INL). The system is known as "Fission."
The acquisition of Fission enables INL researchers to build more complete scientific models and better predict outcomes for a variety of nuclear and energy-related issues. For example, an INL team is using Fission to simulate what happens to the metal cladding that surrounds uranium fuel in a nuclear reactor. Fission helped create a 3-D fuel rod model that simulates how heat, pressure and other conditions affect cladding during its first 18 months in a reactor – a first for the team.
The Appro Xtreme-X, Fission Supercomputer consists of 14 racks with a total of 12,512 cores based on AMD Opteron™ processors. The system features liquid cooling doors designed to reduce datacenter power and cooling costs, pre-configured with the Appro Cluster Engine™ Management System supporting key system capabilities such as stateless support for full RHEL and SuSE distributions, revision control for cluster O/S images allowing roll-back to previous states and automatic discovery of all compute nodes for fast operation. In addition, it includes a complete factory-integrated system combined with HPC installation and professional services and support. Fission has already achieved a peak speed of 91 teraflops, which means it can perform 91 trillion floating point calculations per second. (Fission's size and speed is equivalent to systems that were ranked in the top 100 fastest supercomputers in the world according to a November 2010 list issued by Top 500, an independent organization).
"INL is dedicated to elevate the competitiveness of supercomputer performance to improve and develop modeling and simulations of nuclear reactors", said Daniel Kim, CEO of Appro. "The Appro Xtreme-X Supercomputer based on AMD Opteron™ processors delivers outstanding performance, flexibility, scalability and manageability based on a high-bandwidth and low-latency infrastructure required for today's capacity computing and production system availability requirements. We are very proud to work with INL to provide innovative and advanced supercomputing solutions."
"Fission is a very capable supercomputer that enables increased fidelity in modeling and simulation of complex systems and processes. Scientists and engineers at INL as well as other researchers are already making use of the greatly increased capability," said Eric Whiting, interim director of Idaho National Laboratory's Center for Advanced Modeling and Simulation.
"Fission is enabling us to simulate things we couldn't before," he said. "With Fission, we have been able to simulate a real fuel rod in a real reactor. We haven't had the computing power to do that until now."
About Appro
Appro is a leading developer of innovative supercomputing solutions. Appro is uniquely positioned to support High-Performance Computing (HPC) markets focusing on medium to large-scale deployments where lower total cost of ownership is essential. Appro accelerates technical applications and business results through outstanding price/performance, power efficient and fast time-to-market solutions based on the latest open standards technologies, innovative cluster tools and management software pre-configured and packaged with HPC professional services and support.
Appro supercomputing solutions enables scientists and engineers in academia, government and industry to use highly technical, compute intensive applications for scientific research discovery, data modeling, engineering simulations, and seismic visualization. Appro headquarters is in Milpitas, CA with offices in Korea and Houston, TX. To receive automatic Appro news and feature stories, subscribe to Appro RSS feeds at http://www.appro.com, also visit us on Facebook at http://www.facebook.com/ApproSupercomputers or interact with us at http://twitter.com/approhpc
# # #