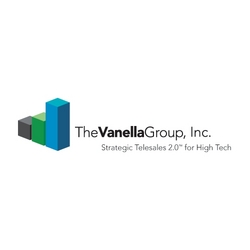 The Vanella Group, Inc. are experts at utilizing our solution -- Umberto Milletti, CEO of InsideView
San Jose, CA (PRWEB) March 3, 2011
The Vanella Group, Inc., the leading provider of teleservices for the technology industry with their Telesales 2.0 ™ methodology, today announced a partnership with InsideView. InsideView is a Sales 2.0 leader, bringing intelligence gained from social media and traditional editorial sources to the enterprise in a single view to increase sales productivity and velocity. Combined with the highest performing telemarketing and lead generation methodology in the industry,Telesales 2.0™, this will take organizations to a new level of revenue attainment.
"Sales organizations are looking for help in leveraging social media and sales intelligence to increase sales productivity" says Umberto Milletti, CEO of InsideView, "The Vanella Group, Inc. are experts at utilizing our solution and can help our clients succeed in today's rapidly evolving selling environment."
"InsideView is a perfect match for our clients and internal reps to accelerate results and maintain long-term relationships with large accounts" says Mari Anne Vanella, CEO of The Vanella Group, Inc., "we've seen an immediate impact both internally and with our clients that now use InsideView."
In today's selling landscape, sales organizations have high demands and are looking for high performance solutions and providers to help them identify opportunities and gain access to the right executives with meaningful engagements. Opportunities identified through high-level telemarketing combined with sales intelligence through InsideView gives companies a powerful infrastructure that delivers measurable results. CSO Insights released in their latest study that reps who utilize a true sales intelligence solution close 12% more deals. The Vanella Group, Inc.'s Telesales 2.0 ™ methodology delivers results 5x above industry standards. Used together, the two companies are able to launch sales teams into a new level of pipeline growth and revenue achievement.
About The Vanella Group, Inc.
The Vanella Group, Inc. provides High-Touch/High-Quality Telesales-based Lead Generation Services for Enterprise Technology companies nationwide. Now in their 10th year, they have delivered opportunity-based programs for companies such as HP, Borland, Hitachi, SAP, Guidewire Software, and many other enterprise technology providers. The Vanella Group, Inc. is an InsideView Partner, Marketo Partner, Salesforce Enterprise Consulting Partner, and provides various services to optimize all aspects of teleservices activity as part of their Telesales 2.0™ solution. Their programs are uniquely designed to be performance-based, overachieving traditional telesales programs 5x above industry standards (2009 DMA Report.) For more information, visit http://www.vanellagroup.com.
About InsideView
InsideView, the leading provider of sales intelligence, increases productivity and revenue bydelivering relevant business and social insights to the point of need. Their award-winning technology gathers and analyzes information from the most relevant social media, user-contributed and traditional/proprietary editorial sources to provide compelling insights about companies and contacts directly within the CRM, browser, or mobile device. InsideView is fully integrated with all market-leading CRM solutions, including CDC Pivotal, Intelecrm, Landslide, Microsoft Dynamics CRM, NetSuite, Oracle CRM On Demand, Oracle-Siebel, Salesforce.com, and SugarCRM. InsideView's products are used by more than 60,000 sales professionals, and over 1,000 market-leading companies including Adobe, BMC, Cap Gemini, Experian and SuccessFactors. For more information, visit http://www.insideview.com.
###