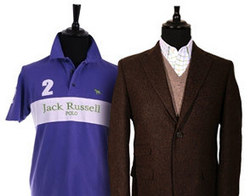 we have had a fantastic response in York, it's a wonderful city and Browns are a great retailer
(PRWEB) April 5, 2011
Jack Russell Clothing, the British menswear brand announce the opening of a new store in the great city of York. They are to be found nestling within the bosom that is the famous Browns Department Store located in a prime site at the ground floor entrance to the menswear section. The store is open Mon-Sat 0900-1730 and Sundays 11.30-1730.
After the success of stores in Oakham in Rutland, Cirencester in the Cotswolds, Corbridge and Morpeth in Northumberland, Helmsley in North Yorkshire and Barcelona in Spain plus online sales through their website they have made the decision to open another store in one of the iconic retail establishments in York.
There was much happiness at the opening perhaps as a result of their own Jack Russell Jazz Ensemble featuring 10 members of the founding family and a free glass of the Oakham Grainstore Brewery's finest 1050 Ale.
For a look at their current collection you can visit our website or one of their stores mentioned above.
Adrian Potts, Chief Executive of Jack Russell Clothing said 'we have had a fantastic response in York, it's a wonderful city and Browns are a great retailer. Yorkshire people are famous for speaking their mind and I think they in particular appreciate the fact that all our clothing is made in the UK or Europe and offered at a reasonable price'. He went onto comment that 'York represents a step up for us and we are very grateful for the level of support we have received as a small British independent brand'.
About Jack Russell Clothing
After 5 generations of making clothes for other people, Jack Russell Clothing was established to create luxury clothing and women and mens casual clothing with quality and detail in mind and with the intention of producing everything in the UK or Europe. They position themselves as an antidote to the monotony of the high street. They are not afraid of bold colour and often use humour in their presentation. Their range has grown over the years and now includes everything from socks to polo shirts for men, wool overcoats to merino knitwear, oxford and mens casual shirts to smart chinos and everything in between.
###