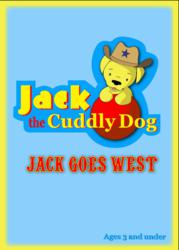 The producers believe parents will actually enjoy the "Jack, the Cuddly Dog" videos, based on the quality of the originally recorded music and the easy-going sensibility of the story.
New York, NY (PRWEB) July 27, 2011
Parents with babies and toddlers face a unique challenge these days: How long can they tolerate most videos produced for pre-schoolers? Many videos for the three-and-under set—whether educational, entertainment, or a hybrid—are scored with tinny soundtracks recorded on synthesizers and feature flat, unappealing characters. The team at Hello Baby Productions have made it their mission to create emotionally compelling and well-crafted videos that appeal to the eyes and ears of parents and babies alike. The producers believe parents will actually enjoy listening to their videos, based on the high quality of the music and the easy-going sensibility of the story.
Accordingly, the just released second video in the "Jack, the Cuddly Dog" series—titled, "Jack Goes West!"—features a soundtrack of American classics artfully played on a vibraphone by jazz virtuoso Sean McCaul. The video features the cuddly animated puppy Jack, who lives in Central Park, NYC, and who was artfully animated by Christina Ghiloni based on the orginal hand-drawn designs of Paul Beard.
In this episode, Jack's red ball takes a life of its own when Jack gives it an extra big kick and it bounces out of Central Park and out of New York across the country. Jack hops in his little green plane and chases his runaway ball into various parts of the great American west. Jack meets many new friends along the way, such as buffalo, deer and sea lions, and travels by train, automobile and hot-air balloon as he chases his ball across the Grand Canyon, majestic redwood forests and the spectacular California coast. Will Jack ever get his ball back?
Together with Jack, babies and toddlers are introduced to spatial concepts and relationships while listening to beautiful original arrangements of American classics such as Coming Around the Mountain, Home on the Range, You Are My Sunshine and others.
Doug Morrione, co-creator and co-producer of the series explains their alternative approach to making baby videos in a genre largely dominated by bigger corporations' products such as Disney's Baby Einstein and Pacific Entertainment's Baby Genius series: "We want to be the Ben & Jerry's of the baby video, pre-school market and stand for hand-crafted quality—both in our artwork and in our music. An early decision we made was to stand out by using talented musicians playing on real instruments and produce beautiful music." Max Reynal, co-creator and co-producer, added, "The same is true of our artwork. We noticed the artwork in many baby videos lacked emotional appeal—as if produced by a computer. We grew up with warm, artful books like Goodnight Moon and Winnie the Pooh. With Jack The Cuddly Dog, we set out to create a modern, animated character that would have a similar artistry and appeal."
The video is available at http://www.jackthecuddlydog.com, and http://www.amazon.com and select retailers.
"Jack Goes West!" is the second episode of the "Jack, the Cuddly Dog" series produced by Hello Baby Productions. Applauded by Filmmaker Magazine as "the cutest cartoon canine ever," Jack delights parents and their toddlers, providing a fun and entertaining experience for all.
Click here for a free preview of the "Jack Goes West!" video on Youtube.
You can request a preview copy of the DVD or a digital file of the trailer or JPEG stills at info(at)jackthecuddlydog(dot)com
###