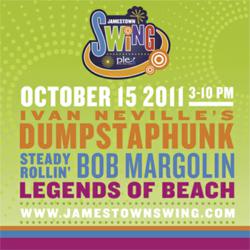 "We've had a tremendous response from area business sponsors, media partners, and local residents. Jamestown Swing is one hundred percent volunteer run, therefore community support is crucial to our success."
- Jamestown Swing President Will Ragsdale
Jamestown, NC (PRWEB) October 02, 2011
Jamestown Swing, a fully recognized 501c3 non-profit organization established in 2009 to raise funds and awareness for select charities through high profile special events, is on track to break attendance and fundraising records for its October 15th charity concert benefiting YMCA "We Build Campaign". This incredible group of volunteers and sponsors has proven what a spirit of giving and passion for music can do for the community.
Jamestown Swing President Will Ragsdale says, "We really made an effort to raise the bar this year in terms of our approach, marketing, and fundraising efforts and as a result, are raising record funds for the YMCA. We've had a tremendous response from area business sponsors, media partners, and local residents. Jamestown Swing is one hundred percent volunteer run, therefore community support is crucial to our success."
Jamestown Swing will donate 100% of the net monies raised through sponsorship and tickets sales of their October 15th event to the Ragsdale YMCA "We Build People" campaign in Jamestown, NC. The YMCA's goal is to include everyone, regardless of ability to pay full price. Contributions raised through the We Build People program support Open Doors scholarships which provide financial assistance on a sliding scale and keep membership and program fees affordable.
"We are happy to be chosen as the select charity by Jamestown Swing," says Kevin Bottomley, Executive Director of the Ragsdale YMCA. "This year there are more corporate sponsors than ever and the event helps to cap off our annual fundraising efforts to provide financial assistance to people in need. We are excited to participate in this great event and look forward to the awesome entertainment lineup."
The story and mission of the YMCA in Greensboro dates back to 1859 and is dynamic and growth oriented, one rich in development, service and innovation, determined to meet the needs of our community. The YMCA vision is to offer a warm and friendly environment radiating a feeling of belonging and caring where people of all ages, races, faiths, beliefs, and physical and financial abilities participate in worthwhile programs and meaningful experiences that make a positive difference in their lives. The YMCA of Greensboro has 6 branches and a summer camp under its umbrella. The Ragsdale YMCA in Jamestown is the latest association, opening in 2004.
For five years, the Ragsdale YMCA operated as a "non-facility" called the Jamestown Area Family YMCA. Executive Director Kim McKone and Associate Executive Director Terry Matthews used these years to build the YMCA's programs. The Jamestown Area Family YMCA ran Summer Day Camp, After School programs, youth sports programs and Active Older Adult programs in cooperation with area churches. In May 2004, the YMCA opened the beautiful full-service facility, the Mary Perry Ragsdale Family YMCA.
YMCA programs build the values of caring, honesty, respect, responsibility and faith. Kids get the opportunity to learn in a nurturing environment, teens have a safe place to go, families are spending quality time together and those in at-risk communities are given the tools to succeed.
Area businesses and residents are rallying behind Jamestown Swing efforts to raise funds and awareness for the Ragsdale YMCA "We Build People" campaign. Elanor Ratterman, President of the Jamestown Business Association says, "Jamestown is a small town with a big, rich history. It has a great balance of small and big businesses, and they all have an excellent sense of community."
That rich sense of community is evidenced by over 20 area corporations, small businesses, and media companies responding to Jamestown Swing's call of action with financial aid and in-kind support for this year's event benefiting the YMCA. Sponsors of the Jamestown Swing include North State Communications, Univar, Mitre Agency, RH Barringer, Dick Broadcasting, News & Record, Womack Publishing, Piedmont Triad Insurance, and Smart Choice.
Jamestown resident and business owner Jenny Ragsdale says, "The Jamestown Swing is an awesome, annual opportunity to showcase everything our town has to offer and raise much needed funding for the YMCA." Ragsdale owns Wine & Design, a business which allows residents to uncork their creativity through art. Jenny and her staff will be offering face painting, free of charge, to patrons at this year's Jamestown Swing.
Jamestown Swing's Beach, Blues and Boogie themed music line-up will provide an awesome evening of fun and entertainment. The charity concert is headlined by Ivan Neville's Dumpstaphunk, which the New York Times calls "the best funk band from New Orleans right now". Supporting acts for this year's Jamestown Swing include Steady Rollin' Bob Margolin and Legends of Beach. Tickets for the event are just $15 in advance or $20 on day of show, and can be purchased through the website.
For more information about Jamestown Swing, visit http://www.jamestownswing.com , become a fan on Facebook or follow @jamestownswing on Twitter. To learn more about YMCA We Build People, visit http://www.ymcagreensboro.org/.
About Jamestown Swing
Jamestown Swing is an officially recognized 501(c)3 charitable organization established in 2009 with the sole purpose of marketing Jamestown, NC and raising money for good causes through high profile special events. In 2009, Jamestown Swing partnered with the YMCA "We Build People Program" to raise awareness and much needed funds for the program. Over the past two years the event has entertained thousands of people and raised thousands of dollars for the Ragsdale YMCA. http://www.jamestownswing.com
About YMCA "We Build People" Campaign
The YMCA's goal is to turn no one away from programs or services due to an inability to pay. This is made possible by "We Build People", the annual charitable-giving program of the YMCA of Greensboro. "We Build People" provides Open Doors scholarships and allows the YMCA to support important community service programs, and keeps memberships and programs affordable to everyone. http://www.ragsdaleymca.org
# # #