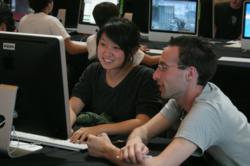 The curriculum gives students a hands-on experience with programming in Java, so it becomes much more than a test topic or something to memorize.
Campbell, CA (PRWEB) June 30, 2011
There's a new way for students to prepare for next year's AP Computer Science exam – the iD Programming Academy summer course Java Programming for the AP Exam.
Only 65% of students who took the AP Computer Science exam in 2010 passed with a 3 or higher. How will 2011 examinees fare in comparison? AP scores are set to be released on July 1st, revealing whether or not students managed to lower last year's disquieting 35% non-passing rate.
One standard way that teens prepare for a round of AP exams is by taking outside prep courses. An increasingly popular option is to attend academic summer camps that specialize in AP topics. For AP Computer Science students, summer computer camps provide hands-on experience with the principles tested in the exam.
iD Tech Camps and iD Teen Academies, leaders in summer technology education, offer summer computer programs to students who want to prepare for challenging exams, gain an edge on their peers or simply learn cool new technologies. iD Programming Academy is one of three intensive iD Teen Academies and focuses exclusively on programming and coding. The Academy recently debuted a new programming course to help students prepare for the AP Computer Science exam: Java Programming for the AP Exam.
Students in the new Java course learn by doing – they make basic programs while reviewing core computer science concepts such as variables, operators, string manipulation and control flow. Students also practice test-taking skills and complete AP exercises both on and off the computer. By the end of two weeks, graduates have a strong understanding of the AP Java subset and standard Java Library Methods. Students also graduate with tools to help them maintain their computer science learning – resources for continuing AP study, as well as online portfolios of their programming projects to reference and share.
Randy Polliard, the Curriculum Manager for iD Tech Camps and iD Teen Academies, explains that the new course helps students absorb AP exam content by emphasizing the practical applications of the subject. "The curriculum gives students a hands-on experience with programming in Java, so it becomes much more than a test topic or something to memorize. Students actually build applications, and they see what can be accomplished with a solid grasp of programming."
iD Programming Academy offers this two-week overnight camp for teens at Stanford University in the San Francisco Bay Area and American University in Washington, D.C. Other courses offered include iPhone® and iPad® App Development, Google Android App Development and C++ and Robotics Engineering.
By the July 1st release date for AP scores, iD Programming Academy students will have begun studying for the AP Computer Science exam. But they'll also be making programs in Java and building real-world applications with their code. That AP Computer Science exam? It just became a stepping stone to a computer science career.
ABOUT iD TECH CAMPS AND iD TEEN ACADEMIES
iD Tech Camps, the World's #1 Tech Camp, helps students do something BIG in technology every summer. The programs provide weeklong day and overnight STEM education courses for kids and teens ages 7-18. Students learn how to create iPhone games, 3D models and animations with Maya®, video games, websites with Flash®, C++ and Java programs, digitally edited films, robots and more. Courses are held at 60 prestigious universities nationwide including Stanford, UCLA, Northwestern University, the University of Michigan, Harvard, Princeton and more. Teens build online portfolios and learn during an intensive pre-college experience at iD Teen Academies: iD Gaming Academy, iD Programming Academy and iD Visual Arts Academy. Visit http://www.internalDrive.com or call 1-888-709-TECH (8324) for more information.
###