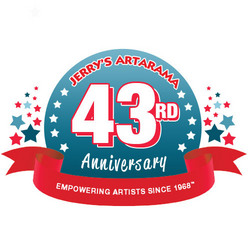 It is an exciting time in the company's history and we truly appreciate the relationship we have with our customers.. our friends
Raleigh, NC (PRWEB) April 16, 2011
Since 1968, Jerry's Artarama has been a leader in the art supply retail industry, and this year celebrates its 43rd anniversary as the pioneer of discount art supplies and ultimate artists' resource. From April 18th – 24th, 2011, Jerry's will be celebrating this hallmark anniversary with a week-long event full of specials, sales, surprises, and giveaways.
From its beginnings as a Long Island retail store, expanding into mail order and eventually across the globe, Jerry's Artarama is not only an art supply retailer, but a resource for artists everywhere. A huge selection of fine art materials for artists of any skill level – from children and beginners to students, experienced and professional artists alike – is a definite forte for Jerry's. But it doesn't stop there: Jerry's is continually making strides to expand the artistic community, and empowering artists by providing them with multiple resources to increase their art knowledge, networks, skills, and voice.
Experience over 50,000 items: Whether looking for fine paint brushes, the best acrylics, oils, or watercolors from around the world, sturdy canvases to paint on, drawing materials, custom picture framing, exclusive oil and acrylic paints, kids' art supplies, instructional DVDs, hard to find items anywhere else and more, it is easy to find it at Jerry's at the absolute lowest discount prices. But there is more to find as well: Over 680 Free Video Art Lessons, product reviews, customer testimonials, art contests with fantastic prizes, Facebook and Twitter pages, an informational blog, special rebates and promotions, art tips and tricks, product demos, art workshops, trade shows – the list goes on! All of these fantastic resources are designed to help the artist on their artistic journey.
Throughout its 43-year history, Jerry's Artarama has proven itself to be a true friend to artists everywhere, and will continue that tradition well into the future. Jerry's is not only a place where an artists' favorite art supplies at the lowest discount prices can be found, but also one where pefessional artists, hobbyists and beginners can improve their art knowledge, brush up on painting techniques, connect with fellow artists, share information, win prizes, voice opinions, and express creativity in an environment designed to support the artistic community. For 43 years, Jerry's has offered this support – beginning with providing artists with the largest selectionof art materials at the lowest prices, and expanding into a multitude of resources for artists everywhere – and this spring marks the anniversary of that auspicious beginning.
Jerry's Artarama 43rd Anniversary Celebration Event kicks off on April 18th, 2011, starting with a a week long super sale and various coupons and specials alternating throughout the week. From free shipping for orders over $43.00, to certain art supplies on deep discount at $19.68, each day in the week-long event boasts a super special designed to reward Jerry's loyal customers and welcome new ones. The celebration culminates on April 24th in the grand finale of giveaways including gift cards and an engraved iPad 2 to one lucky customer!
Join in on the Jerry's Artarama43rd Anniversary Celebration any time during the week of April 18th through the 24th, and find great discounts, coupons, and specials on all your favorite art supplies – or just look around and take part in some of the many art community resources available. Jerry's Artarama is proud to share its special anniversary event with everyone.
# # #