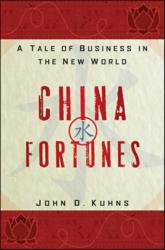 In a way, China is its worst enemy," says Kuhns. "Their appetite for consumer products is voracious and the people are willing to pay more for goods and services."
(PRWEB) June 20, 2011
John Kuhns, CEO of China Hydroelectric Corp. and founder of investment banking firm, Kuhns Brothers, said In an interview with Anthony Lee Pacchia on Bloomberg Law, says that Inflation concerns are definitely palpable when you talk with people in China on the street. Kuhns believes the inflation rate is under-reported and is worse than regulators let on to the point that could lead to a runaway economy.
"In a way, China is its worst enemy," says Kuhns. "Their appetite for consumer products is voracious and the people are willing to pay more for goods and services. Hundreds of millions of people want to become a member of the middle class. That said, I just don't see that the predicted 70% increase of purchases of goods and services will come from Chinese consumers. There's something in their DNA that makes them more frugal, more disciplined. I believe that consumption of products won't direct a shift into hyperinflation."
When asked if the building in China was approaching a bubble-like crest, Kuhns answered, "We have found that it's definitely harder to borrow money now than it was a few years ago, and the former river of cash that was used for construction in the past has slowed down. However, I do believe they will have to turn the cash spigot back on later in the year, for their own economic health."
When Kuhns is asked what is on the top of his radar as he does business in China on a day to day basis, "The top of my radar list would be tariffs for electricity because my biggest investment there is hydroelectric power (CHC) and we haven't had a tariff increase since 2009. Tariffs in the coal industry and nuclear energy industries are much higher--they are losing money, requiring huge government subsidies. While the government is trying to tamp down the tariff regulations to prevent inflation, it's not working. My personal opinion is the price of kilowatt hours will increase by the end of this year."
What do people get wrong most about Chinese and U.S. relations? "It's not like the cold war relationship we used to have with Russia. China is a completely different country. Their primary objective is to make money, they want to be our friends, and there are a lot more benefits to both sides by cooperating with each other."
About China Hydroelectric Corp (CHC)
CHC is a fast-growing owner, operator and developer of small hydroelectric power projects in the People's Republic of China (PRc), led by an international management team. In the PRC, small hydro is defined as a project under 50 megawatts of capacity. CHC's goal is to become the PRC's largest independent power producer involved with small hydroelectric projects.
CHC's primary business is to identify, evaluate, acquire, operate, and in some cases, develop and construct hydroelectric project opportunities. After CHC's formation in 2006, they initially concentrated on acquiring and consolidating a diversified portfolio of existing, operating projects from other developers and operators. Later, they continued to acquire operating projects, and also have begun to develop and construct new projects.
CHC's revenues are derived from the sale of electricity generated by their small hydroelectric projects to China's two main power grids, while their costs relate to the operation of our hydroelectric projects, overhead, and the expenses related to financing the their assets.
CHC has acquired seventeen generating stations and constructed four more. These projects total approximately 493 megawatts of capacity, and are located in four provinces in China: Zhejiang, Fujian, Yunnan and Sichuan. In addition, CHC is engaged in the development of a 1,000 megawatt pumped storage hydroelectric project in Henan province. This project is an example of a project under development, or a project that lacks one or more permits and has not begun construction.
CHC will to continue their expansion. They believe their experience and capabilities gained in the identification, evaluation, acquisition, development, construction and operation of small hydroelectric power projects in China will enable them to take full advantage of the opportunities present in the PRC's hydroelectric power market.
About John Kuhns:
John d. Kuhns is a financier and industrialist who has been doing business in China for over twenty-five years. In 1984, as the founder and CEO of Catalyst Energy Corporation, Mr. Kuhns was the first American to acquire commercial hydroelectric generating equipment from China, powering much of the profitability behind the company's successful IPO and listing on the New York Stock Exchange. Having closed IPOs for five companies including some of the world's leading alternative energy businesses, Mr. Kuhn's most recent transaction was the January 2010 IPO for China Hydroelectric Corporation, China's largest owner of small hydroelectric projects, where he currently serves as Chairman and CEO. Kuhns Brothers, Mr. Kuhn's investment bank, raises financing for Chinese companies, and his private equity organization, the ChinaHand Fund, makes investments in Chinese companies. Mr. Kuhns graduated from Georgetown University, received a Master's of Fine Arts from the University of Chicago, and an MBA degree from the Harvard Business School. He lives with his family in Connecticut, where he fly fishes religiously.
###