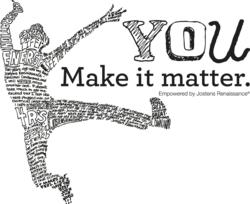 We are excited to be celebrating Jostens Renaissance's 20th National Conference in Anaheim this summer with Jostens Renaissance educators and student leaders from all over North America
Minneapolis, MN (PRWEB) June 21, 2011
Jostens Renaissance® will host the 20th annual Jostens Renaissance National Conference at the Anaheim Marriott in Anaheim, California, July 15 – 17. Over 230 schools and 1,000 educators and student leaders from North America will come together to discuss how they can make a difference in their schools with Jostens Renaissance, an acclaimed educational enrichment program that is customized by the school community.
This year's theme, You Make it Matter, is focused on empowering educators and student leaders to make academics matter to all students, which results in boosting GPAs, increasing attendance, improving school pride and growing graduation rates. The three day conference will be filled with ideas, resources and connections from Jostens Renaissance. The Jostens Renaissance National Conference is the perfect opportunity for attendees to be inspired for the upcoming school year.
"We are excited to be celebrating Jostens Renaissance's 20th National Conference in Anaheim this summer with Jostens Renaissance educators and student leaders from all over North America," said Charley Nelson, director of Educator Services, Jostens. "Every year we hear from educators that this conference renews their commitment to education and the young people they serve. Conference attendees leave with realistic and proven ideas that can easily be implemented in their schools to create a culture for learning."
In addition to over 75 sessions from educators, featured presentations at the 2011 Jostens Renaissance National Conference include opening keynote speaker Bill Walton, National Basketball Association legend and member of the Basketball Hall of Fame, and Liz Murray, the subject of Lifetime Television's Emmy-nominated original film Homeless to Harvard and author of The New York Times best-seller Breaking Night. Mr. Walton will speak on overcoming adversity to reach achievement while Ms. Murray will send attendees off with the message that changing circumstances can change the future.
Other timely topics presented by featured speakers are leadership by Keith Nord, confidence by Jess Weiner, inclusivity and diversity in the classroom by Dr. Crystal Kuykendall, making connections by Mark Scharenbroich, and cyberbullying and social media by Dr. Justin Patchin and Dr. Sameer Hinduja.
Celebrating its 20th anniversary, Jostens Renaissance National Conference has empowered thousands of educators and student leaders with presentations on:

How to use proven techniques to promote academic achievement for all students
Fostering leadership skills with examples that can guide schools
Motivating techniques and practices that can be a part of the Jostens Renaissance program
Rallying and recognizing positive results and behavior at school
Strengthening and enhancing existing Jostens Renaissance programs and starting new programs
Fundraising ideas for Jostens Renaissance programs
The Jostens Renaissance program was founded by Jostens in 1988, and its purpose is to inspire the acceptance and excitement for academics at the same level as other school programs, such as athletics. Through Jostens Renaissance, Jostens aims to increase student performance and teacher enthusiasm and to raise the level of community participation in schools.
While space is limited, schools can register to attend this year's conference by visiting http://www.jostens.com/renaissance.
About Jostens
Minneapolis-based Jostens is a provider of products, programs and services that help people tell their stories, celebrate important traditions and recognize achievements. The company's products include school yearbooks and other memory book products, scholastic products such as class rings and graduation products, and products for athletic champions and their fans. Jostens is a subsidiary of Visant Corporation, a marketing and publishing services enterprise servicing the school affinity, direct marketing, fragrance and cosmetics sampling and educational and trade publishing segments.
# # #