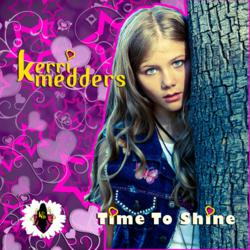 11 yrs old and already singing, dancing, acting, writing, directing at such a high level - there is no stopping this kid, amazing!
Los Angeles, CA (PRWEB) October 05, 2011
"Time to Shine" is a single that comes straight from Kerri's views on working hard, not giving up when things get tough and that anyone can reach their goals if they fight hard enough for them. The music video for "Time To Shine" takes her fans behind-the-scenes of her in the recording studio, performing & having fun.
"Time To Shine" is following the success of Kerri's previous singles "Class Is Out" and "A Friend", currently available on iTunes and Amazon. Kerri has worked hard co-writing new material for her soon to be released self titled album - Kerri Medders - set to be released early 2012. The album is a true reflection of who Kerri is and her outlook on life through her eyes.
Kerri Medders isn't one to sit still. At age 11 she has recorded a full-length album, made three music videos, wrote, directed and starred in her first short film, 'Granny's Lawn'. If she isn't in the recording studio you can find her hard at work rehearsing, taking acting lessons, guitar lessons, dance class, auditions, etc. Even though her plate is full Kerri always makes time for JDRF (Juvenile Diabetes Research Foundation International). Kerri feels honored to be singing the National Anthem in Houston, Texas at the annual Walk To Cure Diabetes in Houston, October 29th. Kerri will also be leading her team, "Kerri's Krusader's" on the walk in Houston and in Los Angeles November 5th.
Kerri says she feels blessed for the huge support she receives from her family and especially all of her fans that follow her daily online and continue to watch her music videos for "Class Is Out", "A Friend" and "This Is My Now" over and over.
This is only the beginning for Kerri Medders, it's her Time To Shine.
KerriMedders.com
Twitter.com/KerriMedders
Facebook.com/KerriMusic
YouTube.com/KerriCute18
ReverbNation.com/KerriMedders
###