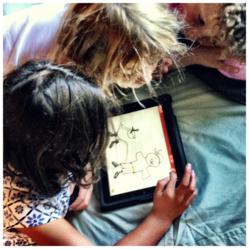 We wanted a more creative experience for him and other kids, and to show them that these devices can also be creative tools
San Francisco, CA (PRWEB) October 17, 2011
Pirate Scribblebeard's Treasure, the flagship app in series of Oscar & Josephine adventures, was developed by Michelangelo Capraro, owner of Kidoodle Apps, to encourage his own son to use touchscreen devices as creative tools and not only for media consumption and entertainment.
Michelangelo describes the impetus behind the app - "As graphic designers, my wife and I spend much of our time using computers to create things. We were really conscious about our child getting sucked into addictive smartphone and tablet games or endless video watching on these gadgets. We wanted a more creative experience for him and other kids, and to show them that these devices can also be creative tools".
A recent Newsweek article discussing the creativity crisis amongst children in the US spurred Michelangelo to create something that attempts to encourage creativity in children. Michelangelo noticed that there were many educational iPad apps, but very few that encourage children to be creative and imaginative. He and his wife set off to create an app that would offer a more creative experience, especially to the growing number of parents with iPads and other touch screen devices for their children. They landed on the idea of a doodle book, where children complete a drawing that's already been started for them, in any way they choose. They wanted the children to exercise their problem solving and imaginative skills by thinking and drawing rather than coloring in a pre-drawn, already-perfected character.
Michelangelo took some cues from the many traditional paper doodling and activity books that have existed for years. Sometimes called "anti-coloring books", they encourage the child to create their own drawing by completing a partially drawn scene however they see fit. He extended the idea into the digital world.
In addition to offering a starting point for young doodlers, Michelangelo created two young animated hosts of the app, Oscar and Josephine, who encourage children to draw burly pirates, pirate ships, even the captain's beard. Once the child is ready to move to the next page, their drawing comes to life and is incorporated into a bigger animated scene.
On one page, children are asked to turn a banana into a sea monster and then a ship and cannon appear to fire a pirate right at the giant fruit. On another page, waves appear and ocean sounds play after a child is asked to turn a bath tub into a pirate ship. These are just 2 examples of the 14 animated pages that are included with the app.
Shortly after the release of Pirate Scribblebeard for the iPad, reviewers and their children responded with positive reviews, including an Editor's Choice Award from bestappsforkids.com, a Golden App Award from appsforhomeschooling.com, and a recommendation from Wired Magazine's GeekMom site.
In addition, several sites that are focused on the special needs community reviewed the app and found it helpful in encouraging children with learning difficulties or diagnosed with autism to draw, communicate, and exercise not only their imaginations but their motor skills as well.
Pirate Scribblebeard's Treasure comes with 14 pages for children to draw on and will regularly receive free updates with new characters and pages.
Device Requirements:

Compatible with iPad, NOOK Color, Kindle Fire, Motorola Xoom, Sony Tablet S, Samsung Galaxy Tab 7" and 10", and other large-screen Android tablets.
Requires iOS 4.0 or later, or Android 2.2 and higher
22.2 MB
Pricing and Availability
Pirate Scribblebeard's Treasure with Oscar & Josephine is $1.99 USD (or equivalent amount in other currencies) and available now worldwide through the Google Android Market, Amazon Appstore for Android, the Barnes & Noble NOOK Color, and the iTunes App Store.
Pirate Scribblebeard's Treasure Product Page
Video
Screenshot
App Icon
About Kidoodle Apps
Kidoodle Apps makes art activity apps for kids that are especially designed for the new generation of touchable gadgets like the iPad, Galaxy Tab, Xoom, Nook and others. These apps are designed to engage your child's imagination and help to exercise their creative skills in fun and magical ways. Started in 2010, Michelangelo Capraro began Kidoodle Apps as a way to encourage his own son to use technology as a creative tool rather than a media consumption device. Now the apps are available on a multitude of touch-screen devices.
###