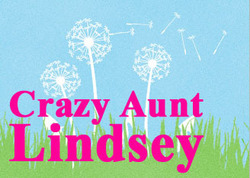 This show is dedicated to promoting fun, educational creativity and healthy development for children. Our sponsors share that agenda.
New York, NY (PRWEB) April 15, 2011
"Doing Stuff With Crazy Aunt Lindsey," the Internet's only web series focused on environmentally friendly art and science projects for children, has launched a fundraising campaign on Kickstarter.com. The production seeks to raise $12,000 on the reputed crowdfunding platform by May 13, 2011. This effort will finance a years' worth of weekly episodes as well as its offline community development initiatives. Incentives for public pledges include live workshops lead by Crazy Aunt Lindsey, a gorgeous coffee table photo book of do-it-yourself crafts published exclusively for Kickstarter investors, and many others. Higher-level backers are offered unique in-show product placement opportunities as official sponsors. Pledges of any size can be made by anyone directly on the Kickstarter project page.
The first season of Crazy Aunt Lindsey was entirely self-funded, gaining early support from product sponsors like Franklin® Electronics AnyBook Reader. The show is championed by prominent "mom bloggers" along with leading parenting publications. "Moms and kids will benefit from this show," says Lucy Banta, New Jersey Family Magazine managing editor. "We love her projects so much that we recently made her a featured contributor on our website."
"I am thrilled to be building such loyal relationships with the incredibly engaged Mom community," gushed show creator, Lindsey E. Murphy. "Their overwhelming support has been a humbling experience. Being able to share my passion for and with children is a dream come true but I'm also committed to offering sponsors an amazing business opportunity with our growing audience." Murphy aims to target Green product lines, independent businesses, and craft specialty stores. "This show is dedicated to promoting the overall mission of fun, educational creativity and healthy development for children. Our sponsors should share that agenda."
In addition to this Kickstarter effort, Crazy Aunt Lindsey will host a special "Spring Fling" brunch benefit on Saturday, April 30th, in Weehawken, New Jersey. This is a family event filled with activities for the kids, food, animals, and more. Tickets are $35 per family. Open to the public and press.
About Crazy Aunt Lindsey
Doing Stuff With Crazy Aunt Lindsey is an online kids show that focuses on bite sized art and science projects that are easy, economical, and eco-friendly. Each week, Crazy Aunt Lindsey and her Kid Co-Hosts walk you through the projects steps in hopes that you will share them with all the kids in your life. Created to encourage bonding, good behavior, and great memories, the show also features a monthly Kid Book Club and "Teacher Tuesdays," a segment offering tips on ways to get the most out of any child's early childhood education.
About Kickstarter
Kickstarter is a new way to fund creative projects. They believe that a good idea, communicated well, can spread fast and wide. Through "crowd funding," a large group of people can be a tremendous source of money and encouragement. Kickstarter is powered by a unique all-or-nothing funding method where projects must be fully funded before its time expires or no money changes hands. Project creators inspire people to open their wallets by offering smart, fun, and tangible rewards in exchange for their contributions.
# # #