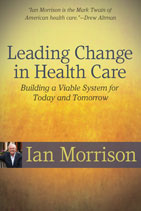 Morrison is an original thinker who is eloquent, provocative, witty, and stimulating—and my favorite futurist. There is much here that you will not find anywhere else.
Chicago, IL (PRWEB) May 02, 2011
An updated collection of short essays written by Ian Morrison, Leading Change in Health Care Building a Viable System for Today and Tomorrow, tell important stories about the current health care environment with themes on building viable systems in health care finance and delivery. The essays also provide entertaining commentary on the conundrums of our health care delivery system.
This new book addresses the need for structural change in health care and stimulates hard thinking about what needs to be done, but in a lighthearted way. Morrison's biting Scottish humor and entertaining style demonstrate that serious thinking and wit can provide flashes of insight and an easy, enjoyable read. Morrison manages to introduce original thinking on alternative management practices, policy analysis, and solutions to problems that vex health care leaders.
The book will be available in late June from AHA Press (http://www.HealthForum.com/AHAPress).
AHA Order Number: 108107, $36.00, 216 pages, 6" x 9", softcover, ISBN: 978-1-55648-383-7
Reader Comments
"It must take a Scottish-Canadian-Californian to understand our health care system, because no one explains it better or with more style."
— Drew E. Altman, Ph.D., President and CEO, Kaiser Family Foundation, Menlo Park, CA
"Morrison is an original thinker who is eloquent, provocative, witty, and stimulating—and my favorite futurist. There is much here that you will not find anywhere else."
— Humphrey Taylor, Chairman, Harris Poll, New York, NY
"Ian Morrison has an unerring ability to crystallize the big, hairy, complex issues in health care in a clear, straightforward way. Oh, and he's devastatingly funny."
— Mark D. Smith, M.D., MBA, President and CEO, California Healthcare Foundation, Oakland, CA
"Ian Morrison's astute insights into contemporary health policy issues are conveyed in a highly readable—and often hilarious—form."
— Peggy O'Kane, President and CEO, National Committee for Quality Assurance, Washington, DC
"...an invaluable resource, asking us to look in the mirror to see the good, the bad, and the ugly of our current system in a wise, thoughtful, disarming, and entertaining way."
— Tom Priselac, President and CEO, Cedars-Sinai Health System, Los Angeles, CA
"...a must-read for policy wonks who need to explain health policy to normal people, and valuable to the rest of us who think something important might be going on in health care but aren't sure what....a 'half joking, full serious' skewer that makes abstract concepts memorable, human, and humorous."
— David Cochran, M.D., President and CEO, Vermont Information Technology Leaders, Inc., Montpelier, VT
"...gives us profound insights into our dysfunctional health 'system' with wit, charm, and a useful disregard for American exceptionalism....smartly balances his empathy with the worries expressed by health care purchasers and patients with an expert's understanding of the business, clinical, and cultural forces that make it so hard to transform the system."
— David Lansky, Ph.D., President and CEO, Pacific Business Group on Health, San Francisco, CA
"...points out our follies and inconsistencies with humor, but always with a message that the work of health care leaders is important."
— Bill Noce, Chair, St. Joseph Health System, Orange, CA
About the Author
Ian Morrison is an internationally known author, consultant, and futurist specializing in long-term forecasting and planning, with a particular emphasis on health care and the changing business environment. He combines research and consulting skills with humor to help public and private organizations plan their longer-term future. Morrison has written, lectured, and consulted on a wide variety of forecasting, strategy, and health care topics for government, industry, and nonprofit organizations in North America, Europe, and Asia.
About Health Forum
Health Forum is a strategic business enterprise of the AHA, creatively partnering to develop and deliver essential information and innovative services to help health care leaders achieve organizational performance excellence and sustainability.
About AHA Press
AHA Press is an imprint for books published by Health Forum, an American Hospital Association (AHA) company. AHA Press's mission is to help health care providers and others deliver more efficient and effective solutions to leadership and operations issues in hospitals and health systems. AHA Press books help health care executives strengthen their organizations' clinical and business performance and help others improve the learning and services they provide.
About AHA
The AHA is a not-for-profit association of health care provider organizations and individuals that are committed to the improvement of health in their communities. The AHA is the national advocate for its members and comprises more than 5,000 member hospitals, health systems and other health care organizations, and 38,000 individual members. Founded in 1898, the AHA provides education for health care leaders and is a source of information on health care issues and trends.
###