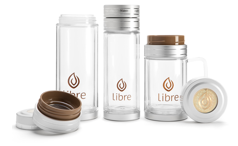 Tea is a way of living; a state of mind. With Libre, people can enjoy a tea moment anywhere, anytime and take full advantage of loose leaf teas.
Sechelt, British Columbia (PRWEB) November 15, 2011
Libre Tea is delighted to announce the newest in their line of travel mugs for tea are available for immediate purchase, just in time for Christmas. Whether for yourself or a loose leaf tea lover in your circle, Libre tea travel mugs make it easy to bring loose leaf tea on the go.
The innovative glass mug design or large glass carafe creates the perfect loose leaf tea for both steeped and un-steeped drinks. The product video shows how this travel tea glass or poly & glass combination produces a perfect cup of tea every time, without leaking, and without allowing tea leaves to escape into the steeped drink. The beauty and elegance of the glass design makes this travel tea mug a standout - no more clunky metal or poor quality plastic to mar the taste or appearance.
"Our new mug and large Libre tea glasses were created to meet demand," explained Wendy Weir, Founder of Libre. "Customers have been telling us they wanted a bigger glass to hold even more tea, so we delivered. It holds about 5 ounces more than the Original Libre. Our Mug style has an easy hold handle for extra grip. Both are great gift options for the holiday season."
Libre tea glasses are made of glass 'n poly, with a durable polycarbonate exterior, and a health-conscious glass interior for clean taste and no flavour transfer. All surfaces that make contact with hot tea/water are BPA-free. The double-wall construction keeps tea hot or cold and comfortable to hold. The tea glasses come with a removable, easy to clean, stainless steel tea filter, which allows tea leaves to remain in the glass and away from the mouth. The simple design also allows one to enjoy teas with limited steeping times or teas that remain in the tea glass.
All products retail at between $25 and $33 CDN.
If you'd like more information about Libre Tea products, or to schedule an interview with Wendy Weir, please call 604-639-7869 or e-mail Wendy at wendy(at)libretea(dot)com.
A full media kit is available on LibreTea.com
Share Tea Moments with Libre Tea on Facebook/teamoments
###