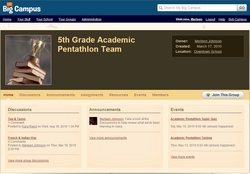 "As an IT director, I like the way My Big Campus provides a merger between the filtering side of Lightspeed and access to...Internet sources. It gives me the features I need, but also gives teachers safe access to information that enhance learning."
Bakersfield, CA (PRWEB) February 1, 2011
Web Zones is the latest feature added to Lightspeed Systems Web filtering solution that enables schools to effectively balance the educational use of the Internet with online safety and security through customization, granular policy control, safe Web 2.0 access, reporting, and mobile filtering.
With the Web Zones feature, teachers can create their own rules to define the online content students are allowed to access, instead of having to consult the school or district IT administrator to unblock or block sites. For example, a teacher may have five websites that she'd like her fifth grade students to use for a research project on the science behind special effects in movies, but two of them are blocked by the district's content filter policies. Rather than go to the IT staff for help, the teacher can simply add the two sites to a Web Zone she's created for her class. The modified filtering rules will be applied to the students' browsing sessions once they join the Web Zone.
Last spring, Lightspeed Systems introduced My Big Campus, another feature that helps balance learning and safety in schools. It combines a searchable collection of educational resources and a suite of collaboration tools to foster blended learning—all integrated with the filter for easier administration and monitoring. Now, more than 300 school districts have deployed My Big Campus to nearly 100,000 users.
Users at districts like Friess Lake District in Hubertus, Wisc. and Atlanta ISD in Atlanta, Texas are using My Big Campus for everything from professional development to classwork to homework.
Friess Lake's special education team is using My Big Campus to share strategies and ideas for helping a specific student. "Getting face to face time between teachers is difficult, especially when several of them only work part-time," explained Krisi Harwood, technology coordinator for Friess Lake.
"One 8th-grade literature teacher poses questions and then the students respond to her, and to each other, to discuss topics about the books they are reading," said Harwood. "She also finds and shares videos within My Big Campus. When they were studying Shakespeare, she found online performances…and posted them for the class to see."
Bethany Wright, a first-year Spanish teacher at Atlanta ISD uses My Big Campus to make lesson notes, give students warm-up exercises, and assign homework for her Spanish-class and special education students. "My lesson notes are available to them right on My Big Campus, which helps them on homework assignments and test reviews. Students can quickly message me if they don't understand a homework assignment or have a question," said Wright.
Dave Allen, a high school science teacher at Atlanta ISD, sparks conversations and debates on My Big Campus that might not happen in the classroom. "We read about a current event or controversial topic and then have a discussion on My Big Campus," shared Allen. "I think My Big Campus is a great tool for getting all kids engaged in the subject matter. It is great to get them ready for college classes and the future workforce."
"I think it is very important to communicate with students in a way that they respond—electronically," said Caren Rumsey, a multimedia teacher with Atlanta ISD. An added bonus for Rumsey: "Since using My Big Campus, I have not been to the copier machine all year!"
The benefits of My Big Campus extend to the IT staff, where ease of use, safety, security, and CIPA compliance are all concerns when opening up collaborative tools.
"Streamlined user authentication is a big plus for us...The users log in to My Big Campus with the same network credentials they use elsewhere," said Jim Baughman, network manager for Friess Lake School District.
"As an IT director, I like the way My Big Campus provides a merger between the filtering side of Lightspeed and access to YouTube videos and other Internet sources," said Ben Rice, technology director for Atlanta ISD. "It gives me the features I need, but also gives teachers safe access to information that enhances learning."
###