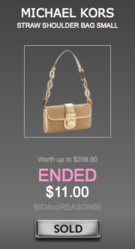 A lifestyle of affordable luxuries.
Tampa, FL (PRWEB) July 19, 2011
Love Labels™, is a new online fashion auction house, offering the most elite brands that we all love and want, especially at a price we can afford. Designer labels discounted up to 90% OFF, bringing a new innovating concept with the traditional auctioning style and incorporate it with a few new twists. Love Labels is a "Patent Pending," concept to ensure our members many years of Love Labels™ to come.
Love Labels™ believes in offering the most luxurious brands at affordable prices based on each individual's budget. Brands member's love to have, love to buy, and love to save on. Yet, with today's market, these luxury items are highly sought after, but they are rarely discounted. Everyone loves "Labels," without a doubt it is what give ones individuality and unique style.
At Love Labels™, fashionistas can unlock these private auctions using entry tickets, exclusively for members-only. Members will purchase entry tickets to UNLOCK any auctions and partake in a "Reserved Seating Auctions Format," once the auction opens up -- bidding begins, the highest bidder WINS! Love Labels' members will have access to the most coveted, classic, newly released and vintage, luxury designer brands at fraction of the cost.
If auctions aren't one's cup of tea, the same brand-name or other designer item also enters a flash sale, so be the first to snag it before someone does when the auction unlocks. The number of items per flash sale varies. Basically, it's just bargains, bargains, bargains all day long.
Our auction showcases are brand new and authentic; all items are sourced directly from the manufacturer, authorized distributor and department stores. Memberships is free and member will receive 3 entry tickets to try our on our site, once you register.
About Love Labels™:
Love Labels' objective is to offer designer handbags, shoes, jewelry, accessories, electronics and VIP event passes at a substantial discount. Members will have the opportunity to bid and win products from the most luxurious designers such as Louis Vuitton, Gucci, Dior, Burberry, Prada, Chanel, Tiffany's, Apple electronics and lots more.
Products are guarantee to be brand new and are always authentic. All products are hand selected, directly from the name brand designer and high-end department stores. Love Labels operate a fair auction & flash sale website with no "Bot bidding or Shill bidding." Staff and immediate family are prohibited from participating in any and all of Love Labels auctions.
Love Labels™ will also be giving back to our communities through charitable auctions where the proceeds will be donated to different charities, our most favorites is the Brain and Spinal Cord Foundation.
Love Labels™ has created a "Patent Pending" concept to offer our members a safe, secure and "A lifestyle of affordable luxuries" for years to come! A concept that allows each individual to have a collection of luxury items, at affordable prices.
Begin your endless opportunities, at a new elite lifestyle with Love Labels™.
Youtube: How it works tutorial
Join us on: FaceBook
Follow us on: Twitter.com
Website: http://www.lovelabels.com
###