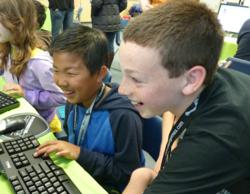 Summer should be a time of fun and games – and game development. The next time you download an app, it may have been developed by an iD Tech Camps student!
Campbell, CA (PRWEB) April 29, 2011
The games section of the Apple® store may get a little crowded after this summer – iD Tech Camps is debuting a new Game Design for iPhone & iPad course, aimed at making the app development process universally accessible. The new course opens up the game app market to students ages 10-15 without programming backgrounds, giving them a "make your own game" experience with GameSalad® software.
iD Tech Camps is a specialized summer program that offers courses in everything from game design to iPhone app development, web design with Flash®, 3D animation with Autodesk® Maya®, filmmaking, robotics and more. Students ages 7-17 participate in weeklong day and overnight classes at 60 prestigious university locations across the U.S. Graduates leave with the skills and practical experience to accomplish surprising things, like publishing apps in the Apple store.
The new Game Design for iPhone & iPad course is unique because it allows users to create handheld mobile games with a combination of simple drag and drop tools. Students can use the extensive GameSalad library of established behaviors to make visually appealing, interactive games – without delving into the complexities of coding. As with all iD Tech Camps courses, the week culminates in a project that showcases a student's new tech skills. Graduates of the course will take home a game project that they can play, share online and possibly even publish.
Students in other iPhone courses offered by iD Tech Camps have gone on to entrepreneurial success with apps started and developed during the summer camp classes. Marc, for instance, is an eighth grader who created a game, turned it into an app and is now turning a profit in the Apple store. By eliminating programming as a prerequisite for app development, the new GameSalad course gives everyone with a great game idea the chance to get an app published.
Since its inception, the course has generated so much interest that iD Tech Camps recently expanded it to be offered at more locations and through additional sessions. Students can now take game design courses held at universities including Stanford, UCLA, Princeton, Northwestern, Harvard, Brown and others nationwide. All locations and session details are listed on the iD Tech Camps summer camps course directory.
With the GameSalad course as a foundation, students go on to explore iD's two other iPhone courses: Programming iPhone & iPad Apps and iPhone & iPad App Devleopment. The iPhone & iPad App Development course is offered through iD Programming Academy, an immersive 2-week program that is pre-college and teen-only.
As iD Tech Camps CEO Pete Ingram-Cauchi says, "Summer should be a time of fun and games – and game development. The next time you download an app, it may have been developed by an iD Tech Camps student!"
ABOUT iD TECH CAMPS AND iD TEEN ACADEMIES
iD Tech Camps is the world's #1 provider of summer computer camps and technology camps for kids and teens with programs held at 60 elite universities in the U.S. Locations include Stanford, Princeton, Harvard, UCLA and other prestigious universities nationwide. Over the past thirteen years, over 120,000 students ages 7-18 have participated in the iD programs. Students create iPhone® apps, C++ and Java programs, 2D and 3D video games, websites with Flash®, 3D models and animations with Maya®, digital photography, films, robots and more. There are also 2-week Teen Academies: iD Gaming Academy, iD Programming Academy and iD Visual Arts Academy. Visit http://www.internalDrive.com or call 1-888-709-TECH (8324) for more information.
###