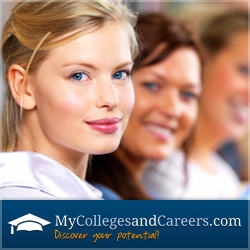 My Colleges and Careers gives students the chance to do research and understand what their education can do for them before they take the leap and enroll in school.
Provo, UT (Vocus/PRWEB) February 04, 2011
A recent study outlined in the book "Academically Adrift: Limited Learning on College Campuses," by Richard Arum and Josipa Roksa, claims that colleges and Universities in the United States may not be doing as good a job educating tomorrow's leaders as they could be.
The study reports that, by their sophomore years, 45 percent of college students don't show improvement in areas like critical thinking, complex reasoning and writing. After four years of college, 36 percent of students showed improvement in those areas.
However, My Colleges and Careers believes students can make good decisions and invest wisely in their education to beat those odds, and have an edge when it comes to looking for a job. My Colleges and Careers helps students become informed about what an education entails, the cost of online degrees, and what majors they are more likely to enjoy and which are more likely to help them land a job after they graduate.
The study followed more than 2,300 undergraduate students from 24 schools in the United States. About half of the students who participated in the survey reported that, in their last semester they were enrolled in, they did not take a class that required 20 pages of writing. About one-third of the students said they did not take a class, during their previous semester, that required 40 pages of reading a week.
In their book, Arum and Roksa propose that the reason these numbers are so high is that students aren't pushed as hard as they could be and that less is required of them while in college. College courses may not be as academically challenging as they could, or should, be, causing a learning gap where students in their freshman year of college are simply re-learning what they learned in high school.
Currently, the government and education advocates are aiming to increase the number of college graduates in the United States to become the world-leader in college graduation rates. The goal is to become more globally competitive in the world-wide market and economy.
However, the results of the recent survey have some wondering wether this goal will actually have the intended outcome. Some claim that becoming more globally competitive won't be achieved by simply increasing the number of college graduates. They believe in order to truly become competitive, students must graduate from colleges and universities that push their students and challenge them at new levels.
Interestingly, the study found that the students who demonstrated an increase in learning while at college were students who read and wrote more, studied alone, attended more selective schools, and who majored in more traditional areas like arts and sciences.
My Colleges and Careers gives students the chance to do research and understand what their education can do for them before they take the leap and enroll in school. The organization helps students discover what areas are more likely to offer jobs upon graduation, what the year's top jobs are predicted to be, and even what types of majors employers are most likely to hire.
This knowledge can help students interested in attending traditional or online universities be a part of the group that demonstrates an increase in knowledge while attending school. My Colleges and Careers believes that whether students are earning their bachelor's degrees, online master's degrees, or even enrolled in an online PhD program, understanding academic options is vital to success. Students enrolled in campus courses and accredited online college courses can make decisions that will shape their futures.
The study also points out that some students intentionally enroll in easy courses and even in universities that may be known for a more relaxed atmosphere. This point brings up the idea that the situation can only be improved when both students and schools work for a challenging education that will help prepare graduates for success.
http://www.mycollegesandcareers.com is committed to helping students find the best school for them so they can earn their college degree and embark on a rewarding career. A powerful resource for individuals who have full-time jobs and family responsibilities, My Colleges and Careers connects people with the programs that help them earn their degree online.
# # #