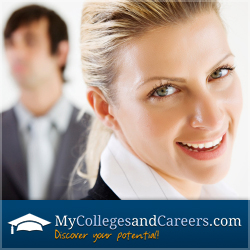 My Colleges and Careers strongly believes that education can help anyone reach their potential and meet lofty career goals.
Provo, Utah (Vocus/PRWEB) March 03, 2011
As higher education is on the brink of facing some major industry challenges, many are considering what these changes will mean for President Obama's goal to increase the number of graduates in the United States. My Colleges and Careers has provided a new website that helps students reach for the goal of graduation so they can be a part of achieving Obama's goal.
President Obama began his administration with a lofty goal for the nation's education sector. In July 2009, At Macomb Community College in Warren, MI, the president announced the goal: "I set a goal for America: By 2020, this nation will once again have the highest proportion of college graduates in the world. We used to have that. We're going to have it again."
My Colleges and Careers strongly believes that education can help anyone reach their potential and meet lofty career goals. With its recently redesigned and updated website, the organization offers students an invaluable resource. Students earning their first degree as well as successful professionals looking to go back to school can start a new career or advance one they already have.
My Colleges and Careers benefits students as they develop to become productive, contributing members of society with excellent careers.
It may seem obvious that one of the best ways to measure the country's progress on this goal is to count the number of graduates in the United States. However, some believe the president's goal is much more than that, and that by focusing too much on increasing graduation rates, schools may be doing the country a disservice.
The fear that some have is that while schools push to graduate more and more students, the quality of the education, and therefore the degrees being awarded, will decline. The quality of programs may go down, schools may require less credits and therefore experience for graduation and more challenging classes may be discontinued.
All these consequences combined will most likely make for less-valuable degrees which hurts not only the students who are looking for jobs, but the country as a whole. The goal of having the most college graduates in the world may be met, but the United States will not be much more competitive in the global market because it's professionals will be far-less qualified than they would be if they had received an adequate education.
Another unintended consequence of an education world too focussed on increasing the number of graduates, is that schools may be less likely to accept students who, statistically speaking, have a lower chance of graduating. This could have a drastic effect on certain groups of Americans, the education sector and even the country's economy.
For example, a study by the Education Trust found that colleges with a larger number of poor students usually had lower graduation rates than colleges with more wealthy students. If schools become even more graduation-rate focussed, they could potentially be cutting out an entire class of students, preventing them from receiving an education and harming the country.
My Colleges and Careers focuses on helping every student find the education that is right for them. Whether traditional or online universities appeal more to a student, the site helps them find what they are looking for. Students can do research about accredited online college courses, school programs and even what types of careers specific degrees will lead to.
The resource also helps students find information about the cost of online colleges and helps them get in touch with professional counselor. Whether a student is interested in earning a certificate, bachelor's degree, master's degree or even online PhD, My Colleges and Careers is there every step of the way.
Education Trust proposes that one way to meet the needs of both students and the country is to help schools focus on both increasing graduation rates as well as making it possible for more people to receive higher education.
http://www.mycollegesandcareers.com is committed to helping students find the best school for them so they can earn their college degree and embark on a rewarding career. A powerful resource for individuals who have full-time jobs and family responsibilities, My Colleges and Careers connects people with the programs that help them earn their degree online.
###