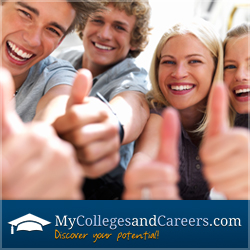 My Colleges and Careers is ready to assist veterans in connecting with online colleges and universities that accept Post-9/11 GI-Bill funds.
Provo, UT (PRWEB) July 19, 2011
The U.S. Bureau of Labor Statistics reported that in 2009, around 33 percent of veterans had completed at least some college courses or earned an associate's degree. They also reported that 27 percent of veterans had actually finished a bachelor's degree. In order to support veteran education, President Obama recently signed off on reforms for the Post-9/11 GI-Bill that will come into effect this August. The bill will now cover all tuition costs up to the highest amount of in-state tuition for all undergraduate and graduate schools. Most colleges and universities participate in this program, including the major online colleges and universities. My Colleges and Careers is prepared to connect veterans to these schools and help them start the process of earning online associates degrees, online bachelors degrees, or even online master's degrees.
The first version of the Post-9/11 GI-Bill became effective in 2009. All veterans who have served since September 10, 2001 for a period of at least 36 months, or been discharged for a disability, are eligible to receive educational funding. This means up to 100 percent of tuition may be covered. There is also a monthly housing allowance as well as a stipend for books and supplies. The bill will cover undergraduate degrees, graduate degrees, and some vocational training. My Colleges and Careers works with many schools, such as the University of Phoenix, Kaplan University, and Liberty University, who all work with Veterans Affairs and accept GI Bill tuition payments. The most obvious benefit of attending an online school is that it allows students to simultaneously work and go to school. This flexibility will be particularly advantageous for GIs who are learning to adjust to civilian life, as well as for those who are wanting a career change.
My Colleges and Careers offers a variety of services that will help prospective students find a degree. The most useful features of the site are the degree searching tools that assist students in finding online institutions that offer programs in their field of interest. There are also degree and career statistics available, as well as news updates, that will keep students informed about financial aid or any other pertinent information. Finally, My Colleges and Careers provides expert advice through their blog. Experts in a variety of different fields write on topics such as the best careers, job seeking tips, and updates to government policies that will help students prepare for starting their education as well as a career.
Popular Degrees and Careers Among GIs
My Colleges and Careers provides information on degrees from all fields of interest. Some degrees that would be particularly in tune with veterans' training are communications degrees or criminal justice degrees. There are many careers in criminal justice field areas that are available, such as parole officers and probation officers. The parole officer requirements are particularly applicable to GIs because of their experience with discipline and managing others. The probation officer job description also mentions these two characteristics as particularly important. And what's more, many organizations who hire parole and probation officers recommend that applicants have either related job experience or military experience.
My Colleges and Careers is committed to helping students find an online school so they can earn their degree and embark on a rewarding career. A powerful resource for individuals who have full-time jobs and family responsibilities, My Colleges and Careers connects people with the programs that help them earn their degree through the convenience of the internet. My Colleges and Careers is able to help prepare all potential students in finding whatever information they need to help them complete their education and start a successful career.
###