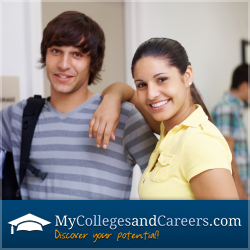 Science careers are considered some of the best careers to enter into because of their high demand and accelerated growth in the employment market.
Provo, UT (PRWEB) June 30, 2011
NASA recently announced three new projects to be launched later this year—a lunar probe, a Jovian (Jupiter) probe, and another Mars rover. My Colleges and Careers can help students gain the education they need to land a career in space exploration.
Due to the nature of space travel, it will take several years for some of NASA's missions to even arrive at their destinations. Once there, they will spend additional years in collecting and sending back data and information to Earth. My Colleges and Careers is proud to have a hand in assisting students to get involved with space exploration by aiding them in finding online degrees and careers in space exploration-related fields such as physics, biology and math.
Science careers are considered some of the best careers to enter into because of their high demand and accelerated growth in the employment market. Physicists and Astronomers both make it in the list of the the top paying careers from the Bureau of Labor Statistics. Biochemists and biophysicists are also included within their top ten of the fastest growing careers through 2018.
These three scientific fields—physics, biology and math—are all particularly applicable for the space exploration missions planned later this year. Each mission is headed for a different destination with its own unique purposes. GRAIL (Gravity Recovery and Interior Laboratory) is a moon-bound probe designed to do an in-depth study of the gravity field around our favorite satellite. GRAIL is set to arrive about four months after its launch, which will take place this September. Juno, the Jovian probe, will be the second probe sent to orbit Jupiter's atmosphere. Set to launch in August, Juno will arrive at the planet in July 2016. Finally, Curiosity will become the fourth Rover to land successfully on Mars to explore the surface and look for signs of current or extinct life forms. Curiosity will launch in November and land on the planet in August 2012.
While all three missions will decidedly rely on the expertise of physicists and mathematicians, there is one that will be of particular interest to biologists—Curiosity. One of the main missions of Curiosity will be to study soil, rock and ice samples on the Red planet. Through the use of sample collection tools, the rover will be able to search for any signs of current or former life forms. This is where those with careers in biology will become particularly useful. Not only do people in this field have to understand terrestrial life forms, but will be required to determine the nature of extraterrestrial ones. The human race has pondered on the existence of life outside of our own planet for thousands of years, at least.
MyCollegesAndCareers.com has several methods for helping students find information about physics, biology, and math degrees and careers. First, they provide a searchable database of schools that offer degrees in their field of interest. This database will also find schools that offer programs similar to what they are looking for, thereby expanding students' options. Second, throughout the site, My Colleges and Careers provides data and other detailed information about top careers, best schools, and degrees. Finally, they have an educational blog written by experts from a variety of careers who give advice on subjects like how to choose a degree or what careers options you have for a given degree. All of these tools will help students find all the information they need to start an education, and later a career, in the scientific field of their choice.
Some of the popular careers in demand for the future will be those that are scientifically-based. This is partially due to the fact that the government continues to promote scientific endeavors, such as space exploration, in an attempt to understand and better our planet. It is definitively an interesting subject that many wish to pursue.
My Colleges and Careers is pleased to participate in the improvement of our earth by encouraging and assisting students who will later become the scientists that will head great ventures like the three just announced by NASA. By providing degree and career advice, as well as allowing students to explore all of their options, MyCollegesAndCareers.com will help promote the betterment of humans as well as human exploration.
http://www.mycollegesandcareers.com is committed to helping students find the best school for them so they can earn their college degree and embark on a rewarding career. A powerful resource for individuals who have full-time jobs and family responsibilities, My Colleges and Careers connects people with the programs that help them earn their degree online.
###