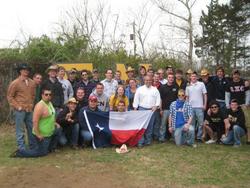 Suicide is the second leading cause of death among college students.
Cape Girardeau, MO (PRWEB) March 9, 2011
The Sigma Nu Fraternity will hold its fourth annual Mark Hudson Classic philanthropy event at 10 a.m. Saturday, March 26, 2011, at the Sigma Nu house at 1409 N. Sprigg Street in Cape Girardeau.
Funds raised will be donated to the university's foundation and used for school-wide student counseling and education on suicide prevention.
The theme of the Mark Hudson Classic is - "Doin' It Texas Style", according to R.J Laurentius, the 2011 MHC chairman.
"The day's events include group competition such as mechanical bull riding, line dancing, cowboy roping, and others. A barbeque lunch will be provided, followed by group championship volleyball in the afternoon, with trophies awarded to the winning teams" Laurentius said. "A raffle for services and merchandise will also be held. Past raffle prizes have included dinners at local restaurants, gift certificates for clothing, tanning, and movie tickets among many others. Over the next several weeks, Sigma Nu members will be canvassing local businesses for contributions to be used in the raffle."
"The MHC has been a well-organized student event, and I'm impressed with Sigma Nu's leadership in coordinating the whole program and helping the university with this important issue" said Bill Holland, vice president for University Advancement and executive director of the Southeast Missouri University Foundation.
This year, the chapter created the Southeast Missouri State University Suicide Awareness Fund, which received a $1,000 donation from CreateMyTee.com. This fund is part of the university foundation, and will be used for school-wide counseling and education on depression and suicide prevention.
Suicide is the second leading cause of death among college students. According to studies at Johns Hopkins University and others, 12% of college students contemplate suicide each year. The Suicide Prevention Resource Center identifies several effective university programs - including education on the role of college students in prevention, recognizing the warning signs, helping your peers, taking care of yourself and being aware of resources available.
The fraternity decided to make this their philanthropy when one of their Sigma Nu brothers at Baylor University in Texas, Mark Hudson, took his own life in 2006. Mark's parents, Michael and Linda Hudson of Keller, Texas, founded several endowed scholarships at Southeast Missouri State University in Mark's name. "The scholarships are created in honor of Mark's love of his fraternity as well as our commitment to the university" Mike Hudson said.
Sigma Nu has raised thousands of dollars in past years, and hopes to exceed previous levels in 2011. Sponsorships and donations are accepted from individuals or corporations.
###