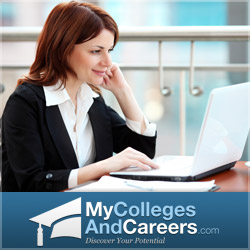 Earning a college degree will soon be an absolute necessity for the majority of skilled workers.
Provo, UT (PRWEB) December 01, 2011
The Federal Reserve Bank of New York released research data on November 21, 2011 showing that skilled jobs for workers without a college degree are in rapid decline. The collected data compared various high- and low-skill jobs over the span of 29 years, from 1980 to 2009. Results showed that high-skill jobs increased salary rates over that time period. Low-skill jobs also increased their employee salaries. Middle-skill jobs remained stagnant for most of that span, and actually began declining in the late 2000s. This means that earning a college degree will soon be an absolute necessity for the majority of skilled workers. My Colleges and Careers is an efficient, online resource designed to help students find online degrees and certificate programs.
An unexpected part of the research conclusions by the Federal Reserve Bank of New York was that they found both high-skill and low-skill jobs had an increase in salary. High-skill jobs include the fields of law, engineering, math, management, and social sciences. All high-skill jobs require at least a bachelor's degree. Low skill jobs include building and maintenance, farming, health support, personal care, and food preparation. These jobs require no college degree and offer low salaries and strenuous working conditions. This research showed that there is an even greater disparity between the salaries of high-skill and low-skill workers. The majority of the population opts for middle-skill jobs that require at least some college, such as careers in: science, finance, business, health practitioner, installation and repair, teaching, arts and entertainment, and more. In 1980, around 75 percent of all U.S. workers were doing middle-skill jobs such as those listed. In 2009, this number had dropped to 68 percent. This leaves middle-skill workers in a difficult position. My Colleges and Careers is prepared to provide tools and services to anyone looking to earn a college degree through one of the top online schools, and thus better their career prospects.
The My Colleges and Careers website is loaded with tools and other information services that can help students, and prospective students, connect with online colleges or universities that offer accredited degree programs. The more education and training one has, the more likely they are to start a successful career and earn a higher salary. Online courses are an ideal way for many adults to complete their college education. Individuals who work full time or have other time commitments will have a higher likelihood of completing online courses due to the scheduling flexibility of distance education.
The degree-finding tool is the main feature of the My Colleges and Careers website. By searching for a specific field of interest and the level of degree desired, students can be connected with online schools that meet their criteria. Other useful tools featured on the website include: infographics, news updates on educational topics, as well as informative lists of the best careers and highest salaries. One last important feature of the My Colleges and Careers website is the Education Blog, authored by a variety of career professionals and industry experts. As the economy continues to progress and change, it is clear that the requirement of education, in relation to earning a high salary, is becoming ever more vital to career success.
About My Colleges and Careers
My Colleges and Careers is dedicated to helping students and prospective students earn their college degrees through online degree programs. Considering that most students have other responsibilities and commitments, My Colleges and Careers can become a great resource for those seeking a way to fit school into an already busy schedule. Through online programs, students can complete their schooling at their own pace. The tools and services offered on the My Colleges and Careers website have already assisted many students in completing their education and starting a successful career.
###