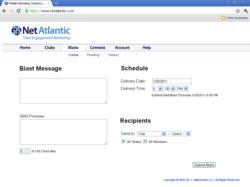 Imagine walking toward a store at the mall and a text offer from that store suddenly pops up on your phone.
Salem, MA (Vocus/PRWEB) March 01, 2011
Email marketing service provider Net Atlantic, Inc. today launched a new mobile SMS text marketing capability that will significantly improve engagement with subscribers. Mobile SMS Text Marketing will allow email senders to reach their audience by Short Message Service (SMS) text messages to any mobile device platform, anywhere, and offer them timely promotions. Subscribers can take advantage of text updates and coupons sent immediately to their handheld devices in addition to email.
Net Atlantic will provide this new text marketing capability in partnership with Ads + Synergy, an advertising technology firm specializing in mobile communications, mobile rewards programs, and web video. Ads + Synergy helps digital marketing agencies, publishers, and advertisers with cost effective ways to expand their markets and keep people engaged with their brands. By combining innovative messaging, advanced segmentation, and flexible promotional programs, mobile SMS text marketing from Net Atlantic and Ads + Synergy allows senders to leverage and profit from rapidly evolving worldwide web and mobile technology.
The mobile SMS text application is driven by NetInformer, a leading provider of interactive mobile marketing and media services for digital campaigns and communications services.
"Imagine walking toward a store at the mall and a text offer from that store suddenly pops up on your phone," said Ron Stalman, Managing Director of Ads + Synergy. "Mobile text marketing can do that for your customers. In addition to email, you can schedule a text message or mobile coupon to go to the right people at the right time and in the right place."
"We've expanded beyond email marketing to give senders a total engagement platform," said Bill Reich, President of Net Atlantic. "Now you can send your audience instant text alerts and updates about events, snow days, promotions, and contests on the device they use, when they use it."
Similar to email marketing, mobile SMS text marketing requires mobile device users to subscribe by texting keywords to a certain address or using an online form. Once in the sender database, subscribers can be segmented by demographic data, mobile platform, and activities and behavior such as favorite bands, events attended, and retail choices. This interactive email and mobile campaign system enables a real-time and flexible way for marketers to extend their brand and appeal to their target market.
About Ads + Synergy
Ads+Synergy is an advertising technology firm that assist publishers, agencies and fortune 500 companies in implementing cost effective ways to expand their market to the world of web video, mobile display ads, SMS and opt in marketing programs. Ads+Synergy has brought together the best of breed in Print, Web and Mobile technologies. Each of these technologies can be used as a stand alone solution or integrated together. With over 20 years experience in print publishing we understand your needs and will help in your transition to mobile. Visit http://www.ads-synergy.com.
About Net Atlantic
Net Atlantic, Inc. is an email marketing company that offers innovative technology and tools to drive sales for companies and organizations in a wide range of vertical industries. As an Email Service Provider (ESP), we help our clients, partners and affiliates to cost-effectively deploy email marketing solutions and improve ROI with email campaign deployment, email automation, CRM integration, and social media integration. To learn more about the Net Atlantic SaaS (software as a service) based solution, visit our website at http://www.netatlantic.com.
Copyright © 2011 Net Atlantic, Inc.
###