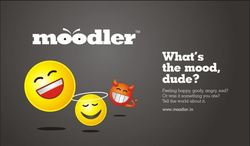 "Moodler is the first social media app that shows everyone's mood at a glance, and allows to conduct a poll on practically anything and get a mood graph", said Siddharth S. Kumar, Founder-Director, Pixelkraft Media Solutions Private Limited
San Jose, CA (PRWEB) February 25, 2011
Moodler is the first microblogging app to track the mood of one's social network. Unlike Twitter, where the constant stream of tweets makes it practically impossible to keep track or understand the mood, Moodler can give an instant snapshot of everyone in the network and the mood they're in. Moodler has a unique polling feature which allows snap polling on any question or post. Moodler has a 350 character limit per post, allowing for greater freedom and quality of posts. Plus, embedding video links from YouTube and Vimeo in a post. Moodler is integrated with Twitter and Facebook, which makes it easy to post updates onto all these networks.
Moodler has been discovered by people from over 107 countries, and has signups from countries like Africa, Canada, China, Germany, India, Indonesia, Israel, Philippines, Taiwan, UK & USA.
Pixelkraft previously created "Ram and Ria," India's first English micro sitcom for the Internet and "Buzzar" a rich-media window shopping site that is now transforming itself into a social media platform for brands.
URL: http://moodler.in/
# # #