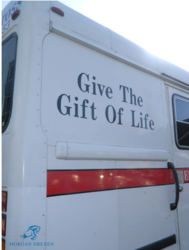 Peter Ruacho has been giving blood for more than 10 years, "Its sounds corny but this is the closest I will ever get to saving a life," says Ruacho
Costa Mesa, CA (PRWEB) December 13, 2011
Costa Mesa-based Morgan Drexen supports the Red Cross as blood donations decline during the holiday season.
Nationwide families, businesses and employees are preparing for the holiday season. Sadly for busy foundations like the American Red Cross this leads to a lack of donors.
"Our community blood supply can drop to drastically low levels during the holidays. Shopping, vacations and other seasonal distractions lead to far fewer blood donations during December and January," admits Nicholas Samaniego, Public Affairs Manager for the American Red Cross Southern Californian Region.
Despite competing with the festive season 52 Morgan Drexen employees participated in the blood drive. Among the donors was Human Resources Associate Scott Bundy who is working towards his two-gallon pin. "I know that many people may be a little scared when it comes to giving blood, but the choice between feeling a small sting in your arm or saving a life. That is a no brainer, and easy decision," admits Bundy.
Morgan Drexen Chief Financial Officer David Walker was also among the donors. "It is great to see so many of our young employees participating in this blood drive. We all understand the need for donations but we don't always act on it, so I am proud to be part of this event today," adds Walker.
Peter Ruacho has been giving blood for more than 10 years, "Its sounds corny but this is the closest I will ever get to saving a life," says Ruacho
According to the American Red Cross every 2 seconds someone across the US needs a blood transfusion. Each blood donation can help save the life of more than one person as each donation can be separated into components and each component can then be given to different people.
"I am so thrilled that my employers at Morgan Drexen held a blood drive. I am a kidney transplant patient and without blood transfusions I wouldn't have survived. I received a kidney from my mother that lasted 14 years. I married my childhood sweetheart and I have two beautiful healthy children that are amazing as doctors told me that I might never be able to have kids. By giving blood you are giving life," says Justin Brock a Client Services Specialist at Morgan Drexen.
###