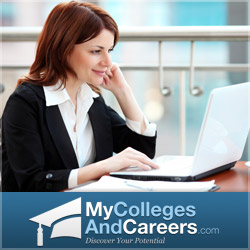 The goal of the My Colleges and Careers education blog is to prepare individuals to complete their education.
Provo, UT (PRWEB) October 19, 2011
My Colleges and Careers is pleased to announce an addition to their team of educational experts. Nancy Juetten is a Chief Publicity Officer and an expert in the area of business. This month she contributed her first monthly article for the My Colleges and Careers education blog. My Colleges and Careers created its education blog in order to offer prospective students information and expertise from real-world professionals that could help them complete their education and build a career. With the help of experts such as Nancy Juetten, students can be more prepared to take on the challenges of an education and career.
Nancy is not only a professional in the area of business, but is the author of Bye-Bye Boring Bio. Additionally she works as a storytelling lecturer, as well as giving Webinars and hosting workshops. Her focus revolves around helping businesses and individuals improve their image and marketability in a tough job market and slumping economy. Some of her accomplishments include having her expertise featured in print with the Associated Press, USA Today, Forbes.com, FoxBuiness.com, the American City Business Journals, WomenEntreprenuer.com, and Success magazine. In 2010 she was listed within the Top 100 Home Based Businesses released by StartUpNation.com.
On October 3, 2011, the My Colleges and Careers website featured her first article, "Ready to Say Bye-Bye to Your Boring Bio? Here's How". The article gives prospective students and current students ideas about how to make themselves and their businesses more appealing to the public by writing captivating personal biographies. The goal of the My Colleges and Careers education blog is to prepare individuals to complete their education. Nancy Juetten fits in well with other industry experts in helping students learn the best. A variety of experts from many different areas, such as health care, technology, and business, offer advice for students through monthly articles. Topics can including subjects such as tips on how to choose a career, personal experiences from experts relating to their careers and education, and advice for how to best take advantage of your time in school. All of the website tools will allow students to find accredited degree programs that were customized to enhance online learning and make it equivalent to traditional classroom work.
My Colleges and Careers also provides other online tools to assist students. The featured tool, the degree-finding tool, will help connect prospective students with online schools that have degree programs in their area of interest. Website users simply choose the subject that interests them and the level of degree they are looking for and will be given any pertinent information. Degrees can be awarded from the level of a certification all the way to an online PhD. Finally, the My Colleges and Careers website includes lists of the top careers; infographics relating to education and careers; and news updates about any educational issues, such as financial aid.
My Colleges and Careers is dedicated to helping students and prospective students earn their college degrees through online degree programs. Considering that most students have other responsibilities and time commitments, My Colleges and Careers can become a great resource for those seeking a way to fit school into an already busy schedule. Through online programs, students can complete their schooling at their own pace. The tools and services offered on the My Colleges and Careers website have already assisted many students in completing their education and starting a successful career.
###