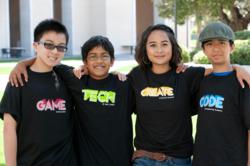 Our goal at iD is to give students an edge on the competition, expose them to technology, and help them find their path.
Campbell, CA (PRWEB) November 02, 2011
In today's unpredictable economy, the key to not only being employed, but in demand, is having the right skills. A recent report by the U.S. Department of Commerce Economics and Statistics Administration predicted that the most secure jobs for the future will be in STEM (Science, Technology, Engineering and Math) fields. Computer engineers will experience an astonishing 17% job growth rate from 2008-2018, IT 30%, and web designers 13%.
What can proactive parents do to ensure that their children stay ahead of the curve? Seek STEM education outside of traditional school systems.
Summer technology education leaders iD Tech Camps and iD Teen Academies recommend that students find something they're passionate about, and specialize. "We've been at the forefront of technology education for 14 years," explains CEO Pete Ingram-Cauchi. "What I've witnessed is that students who start building STEM skills from a young age are able to get way ahead of their peers. Our goal at iD is to give students an edge on the competition, expose them to technology, and help them find their path."
In a bid to help more and more students find their STEM paths, iD Tech Camps recently launched its new season, featuring more technology courses and more university summer camp location options for its weeklong programs. Students can go to summer camp and learn STEM skills in app development, game design, digital movie making, and more while experiencing life on a college campus and building strong social bonds with like-minded youth. iD Teen Academies, a sister program, also launched additional courses and locations for its two-week, pre-college, teen only tech programs.
Among the new courses for both iD programs are the highly anticipated Game Design for iPhone® and iPad®, 3D Game Modding – Portal™ 2, Programming in C++, Programming in Java, Movie Making Camp, and Intro to Web Design & Photography. New program locations will be held at universities including Yale University, Duke University, the University of Nevada at Las Vegas, Rensselaer Polytechnic Institute, the University of New Mexico, and Amherst College.
Parents and students can browse the internalDrive (iD) website for the updated selection of courses and locations starting on November 1st, 2011, as well as register and consult with iD Program Advisors about the right way to develop their child's interests.
"One thing that really enhances the student experience is the way our curriculum follows a path," explains Client Services Manager Patrick Hile. "Depending on a student's age, they can start off with a junior course like Adventures in Programming and work their way through intermediate courses like Programming – iPhone® & iPad® Apps in Xcode®, eventually ending up in our specialized iD Programming Academy for teens. We've built a system where students can get a really thorough technology education. And our trained Program Advisors are always available to help guide students to the right path."
Additionally, iD strives to make sure that the student experience extends well beyond the weeklong and two-week summer tech sessions. Budding game designers, programmers, and graphic artists can hone their skills before and after camp with iD Tech 365, a new subscription service that also launched for the 2012 season on November 1st. The service is a year-round learning experience, designed to keep students' passions alive and skills sharp 365 days a year with engaging tech tutorials, gaming tournaments, and social forums.
Registration for Summer 2012 is now live, and availability in the programs is limited – like jobs in today's economy. iD recommends that students register early for their first choice in locations, courses, and dates.
ABOUT iD TECH CAMPS AND iD TEEN ACADEMIES
iD Tech Camps is the World's #1 provider of summer computer camps and technology camps for kids and teens with programs held at over 60 elite universities in the U.S. Summer camps are held at Stanford, Princeton, UCLA and other prestigious universities nationwide. Over the past fourteen years, more than 130,000 students ages 7-18 have participated in the iD programs. Students create iPhone® apps, 2D and 3D video games, websites with Flash®, C++ and Java programs, 3D models and animations with Autodesk® Maya®, digital photography, films, robots, and more. There are also 2-week Teen Academies: iD Gaming Academy, iD Programming Academy, and iD Visual Arts Academy. Visit http://www.internalDrive.com or call 1-888-709-TECH (8324) for more information.
# # #