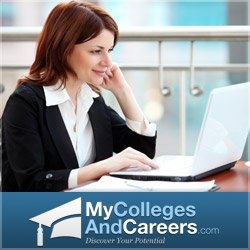 Professionals over the age of 25 who have a bachelor's degree or higher have an unemployment rate of only 4.4 percent.
Provo, UT (PRWEB) November 09, 2011
The United States Department of Labor, Bureau of Labor Statistics reported a drop of 0.1 percent in unemployment rates for the month of October. This is the lowest unemployment rate since April 2011. There are approximately one million more jobs available this year than in October 2010. My Colleges and Careers is committed to helping students gain the skills and education necessary to qualify them for top careers during the current recession recovery.
In a breakdown of the unemployment rates, seasonally adjusted, the Department of Labor data indicated that the unemployment rate for those aged 20-24 years was at 14 percent. This is compared to a 9.8 percent unemployment rate for those between the ages of 25 and 35 and a 7.8 percent unemployment rate for everyone 25 years and over. This data indicates that the recession has hit the college-aged population hardest in regards to unemployment rates. My Colleges and Careers can help college-aged students to improve their employability by connecting them with online colleges or universities that offer educational training and degrees. The October data also shows that people over the age of 25 who have a bachelor's degree or higher have an unemployment rate of only 4.4 percent.
My Colleges and Careers has created a website with online tools designed to assist students in the process of finding online colleges and universities that offer accredited online degree programs. Attending an online school is a great option for anyone who is starting their degree for the first time, or returning to get another degree due to economic circumstances or just a desire for change. The flexibility of online courses can allow students who have full-time jobs to complete their education and training according to their individual schedules. Online degrees are available at any level, from certificates to complete Ph.D. programs. Because of the slow rise in employment rates, and simultaneous lowering of unemployment rates, an online education can be extremely beneficial in helping young workers find employment.
The specific tools located on the My Colleges and Careers website were designed to allow those looking to enter an online degree program to find an online school that fits their needs. The degree offerings for each school are unique, giving students a wide range of options for choosing a degree as well as a school. Some other features of the website that will help students prepare to earn a degree are: education and job-related infographics; updates on news regarding careers, online schools, and government policies; and up-to-date lists of best careers and highest-paying industries. The final feature of the My Colleges and Careers website is the online education blog featuring articles from industry experts. All of these website features were specifically designed to improve students' chances of gainful employment.
My Colleges and Careers is dedicated to helping students and prospective students earn their college degrees through online degree programs. Considering that most students have other responsibilities and commitments, My Colleges and Careers can become a great resource for those seeking a way to fit school into an already busy schedule. Through online programs, students can complete their schooling at their own pace. The tools and services offered on the My Colleges and Careers website have already assisted many students in completing their education and starting a successful career.
###