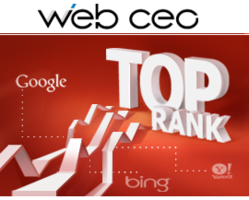 Streamlining SEO audits for websites will definitely make Auditor a very popular webmaster tool.
London, UK (PRWEB) November 16, 2011
"Web CEO enjoys a well-earned reputation for being an efficient time saver for SEO and website promotion routines. A critical mission of website troubleshooting and optimization is now accomplished faster and easier with an enhanced Website Audit tool that has been reinforced with keyword-oriented SEO Analysis. Streamlining SEO audits for websites will definitely make Auditor a very popular webmaster tool." – says Viktor Tatarov, CEO and Chief Architect of Web CEO.
In addition to dead link detection, the updated Auditor will examine a site for SEO mistakes and check separate pages for proper keyword optimization.
The site-wide SEO analysis collects information about missing important HTML tags, duplicate tags, a missing robots.txt and/or Sitemap, excessive outgoing links, missing or overuse of heading tags, page redirect problems and other matters.
The keyword population analysis will report about the presence or absence of exact and broad keyword matches in all of the SEO-critical areas of a website and will also detect pages with too many keyword repetitions.
Another important new development for SEOs would be Web CEO Online's new collaboration facilities. Customers of Web CEO Online can share projects with their distant co-workers or freelance SEO workers while giving them the same level of permission with regards to the shared projects. At the same time, the co-workers don't need to pay for Web CEO Online, as only one account needs to pay for a collaborative group effort.
Web CEO Online has started a Thanksgiving promotion campaign. During this campaign, customer orders will result in an additional equal sum credited to their accounts.
About Web CEO Online: Web CEO Online (http://www.webceo.com) is a 1-year-old web-based project of the Web CEO team that has created the most popular search engine optimization (SEO) software in the world (830,000+ registered users of the desktop software version, and over 30,000 registered users of Web CEO Online). Web CEO Online includes tools for keyword research, backlink building, website SEO audit, ranking and backlink tracking. Web CEO LTD. main office is located in London, UK.
###