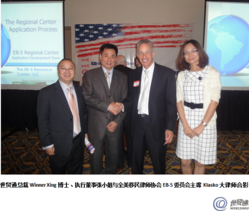 Thanks a lot for organizing such an amazing EB-5 investment event, it is very informative and the networking is great!
Orlando, Florida (PRWEB) September 12, 2011
Commercial real estate developers, economic development officials and EB-5 regional center executives from all over the country will be gathering at the National Commercial Real Estate EB-5 Finance and Investment Forum on September 30, 2011. EB-5 investment program has been attracting attention from the commercial real estate development and hospitality industry.
This one day EB-5 finance and investment forum is to be hosted by Artisan Business Group, Inc., an Illinois based international investment advisory firm. The conference will provide a comprehensive overview on the federal EB-5 regional center pilot program that is heavily marketed and promoted in China, Korea, and other countries. Come learn how commercial real estate developers can join forces with EB-5 capital to finance real estate and hospitality development projects around the country. "EB-5 capital has been funding various job-creating development projects throughout the country, the federal immigrant investor program allows foreign nationals to invest in the country and in exchange of possible legal residence, the capital from foreign investors help create local jobs for tens of thousands of Americans." says Brian B. Su, CEO of Artisan Business Group, Inc. The event will provide the latest market, legal and economic information, and updates to commercial real estate developers, financial professionals, immigration attorneys and economic development officials who are interested in stimulating local economy and creating jobs by utilizing the federal EB-5 program. The event will feature VIP speakers Mr. Robert Divine, a former acting chief of USCIS, Mr. Ronald Fieldstone, Mr. Ed Beshara, Ms. Jo Ann Clarke and other top-notch EB-5 experts in the country as well as Chinese agent.
The federal EB-5 Regional Center Pilot Program has been created to allow foreign investors to invest in commercial enterprises in the U.S. in exchange for a chance for them and their families to become legal permanent residents in the U.S. To date, nearly 180 EB-5 regional centers have been designated by the U.S. government and many more local commercial real estate developers and economic development agencies are actively seeking alternative capital to fund its projects. As a result of this unique federal program, several billion dollars in investment has brought into various investment projects and tens of thousands of American jobs have been created throughout the country.
For more information about the National Commercial Real Estate EB-5 Finance & Investment Forum at Hyatt Place Orlando Airport Northwest, please log on http://www.EB5InvestmentForum.com or contact Brian Su, CEO & President of Artisan Business Group, Inc. at (217) 303-5393.
About Artisan Business Group, Inc.
Artisan Business Group, Inc. specializes in China-U.S. investment consulting and advisory services. To be successful in the Chinese and Asian capital markets, American businesses must combine proper analysis and solid communication with their foreign counterparts. Artisan Business Group, Inc. is a bridge to the emerging markets in China and Asia. Headquartered in Springfield, IL, Artisan Business Group, Inc., is here to assist American companies achieve that goal in Asia and China. For additional information, please log on http://www.ArtisanBusinessGroup.com
Press Contact:
Brian Su, CEO & President
Artisan Business Group, Inc.
Springfield, Illinois
Tel: (217) 303-5393
Email: info(at)ArtisanBusinessGroup(dot)com
###