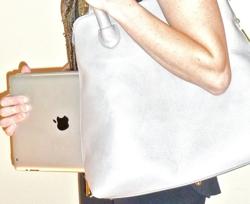 New York, New York (PRWEB) December 14, 2011
Oscar and Anna effortlessly integrates design and function in a new high-concept ladies handbag, made from beautiful Italian leather that reduces "bag-clutter" and elevates personal style. Launched in September 2011, and featured in the December 2011 issue of InStyle Magazine, "Your Look Q&A," Oscar and Anna helps women achieve a new level of organization while looking exceptional.
The idea for Oscar and Anna bags came to Creative Director and Founder, Anna Zefferys, in 2008. Zefferys said, "I wanted a beautiful bag that I could throw a pair of heels in while walking to an evening event in flats. Everything I owned was either too small, too big or too casual."
Oscar and Anna bags are distinguished by two unique compartments: the upper space is suited for easy access to necessities like a wallet, phone, lipstick or iPod; and, the lower compartment--reached through high-quality zippers on the side panels--is perfect for toting heels, as an iPad carrying case, for stashing a cardigan, or even carrying wine.
According to Zefferys, "Oscar and Anna aims to provide women with a unique handbag experience. We will stick to our classics introducing variations on those styles. From time to time, we plan to design limited edition items to add sparkle to our collections. Ultimately, our goal is to stay small and focused on ultra-functional design and most importantly, timeless style."
The A Shoe In handbag was reviewed this December on popular fashion blog, le petit monde. Two new handbags, Clandestine and Has Been, round out the versatile Take Me Out line and are available for preorder now.
Founded in New York City, Oscar and Anna empowers women to make bolder fashion choices bolstered by accessories or selective clothing pieces that take the effort out of decision-making and adapt to each individual's unique sense of style. All of our bags are made in New York City.
###