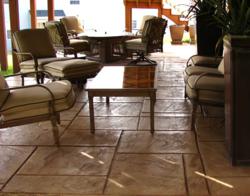 Calimes, CA (PRWEB) May 12, 2011
Accessorize concrete patios this spring with amenities that make outdoor entertaining and relaxation a breeze. ConcreteNetwork.com is offering a handy guide to choosing the right patio amenities to create a functional and welcoming retreat. Explore concrete seat walls, outdoor fireplaces, water features and much more for patios.
With hundreds of options for accessorizing a patio area, choosing which amenities to include and which to leave out can be a difficult task. Based on overall patio size, consumers should prioritize which amenities they want, which they really need and which will fit properly in the allotted space.
Some of the most popular accessories consumers will want to research are seat walls, building an outdoor kitchen, adding a fireplace or fire pit, incorporating a water feature, outdoor furniture, landscape lighting, pots and planters, and many more. Homeowners can find products that meet virtually any need and desire.
Once the primary function and purpose of a patio has been determined, consumers will be better equipped to research and explore the many patio accessories available in today's market.
Websites like LandscapingNetwork.com offer additional information and resources on patio accessorizing tips and products.
Established in 1999, ConcreteNetwork.com educates consumers, builders, and contractors on popular decorative techniques and applications. These include stamped concrete, stained concrete, concrete countertops, polished concrete, and much more. Over 12 million people visited Concrete Network in 2010 to research, get ideas and to find a contractor.
The site excels at connecting buyers with local concrete contractors through its Find a Contractor service. The service provides visitors with a list of decorative concrete contractors throughout the U.S. and Canada, and is fully searchable by more than 20 types of decorative concrete work in over 200 regional areas throughout North America.
Article photo courtesy of Morrison's Custom Concrete in Lancaster, PA. Attached photo courtesy of Finishing Edge Inc in Zionsville, PA.
# # #