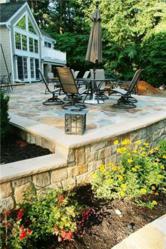 Calimesa, CA (PRWEB) July 15, 2011
Summer's just started, and now's a great time to enjoy the outdoors on a new concrete patio. Patios made from concrete offer a host of advantages over other commonly used materials. ConcreteNetwork.com takes an in-depth look at these many advantages, covering everything from concrete's versatility and durability benefits to color possibilities to how to make any new patio fit with the existing surroundings, and more.
Trends show that pools are getting smaller and patios are taking a dominant role in backyard's across the country. Concrete patios offer homeowners many advantages, allowing them to create a one-of-a-kind patio that is both practical and meets their every need.
Of the most important of these advantages, are the benefits that include versatility, durability and cost. These patios are so versatile because they can be poured into any shape and size maximizing any space constraints. They are highly durable and can stand up to a range of weather conditions found across the country. In addition, their costs are competitive and often lower than patios made of stone, brick or tile.
Other advantages include endless color possibilities made available by many of today's innovative stain and coloring products, along with different finishing techniques. And with an easy maintenance routine, concrete patios can last many years.
Concrete patios can be created in so many textures, patterns, and colors; they are the perfect choice for blending into any backyard environment. For more information on concrete patios, visit http://www.ConcretePatio.org.
Established in 1999, ConcreteNetwork.com educates consumers, builders, and contractors on popular decorative techniques and applications. These include stamped concrete, stained concrete, concrete countertops, polished concrete, and much more. Over 12 million people visited Concrete Network in 2010 to research, get ideas and to find a contractor.
The site excels at connecting buyers with local concrete contractors through its Find a Contractor service. The service provides visitors with a list of decorative concrete contractors throughout the U.S. and Canada, and is fully searchable by more than 20 types of decorative concrete work in over 200 regional areas throughout North America.
Article photo courtesy of Concrete Concepts of NJ, Inc in Hackensack, NJ. Attached photo courtesy of Clear Springs Construction in San Antonio, TX
###