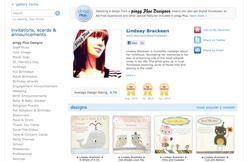 New York, NY (PRWEB) March 8, 2011
pingg (http://www.pingg.com), the leader in artist-designed online invitations and ecards, announces the launch of the pingg Plus Designer Program and Platform--a new opportunity for content creators to earn revenue from online invitations and ecards.
Designers, charities and brands who qualify to become pingg Plus Designers have their invitation and ecard collections included in pingg's upgrade package--pingg Plus. A host who chooses a pingg Plus Design for their invite or ecard automatically receives all the features included in pingg Plus, such as a digital envelope or an ad-free event web page, in addition to great design content. Each time one of their designs is used, a pingg Plus Designer earns 50% of the net revenue generated from the sale of that upgrade.
This announcement marks the third phase for pingg in making available its invitation, ecard and rsvp platform to designers, charities and brands. pingg first introduced the pingg Plus upgrade package alongside its free service in May 2010, followed by the pingg Designer Studio in July 2010.
pingg Plus gives hosts a variety of premium features including: digital envelopes; an ad-free event web page and communications with guests; a customized event web page URL; and the ability to send to as many as 2500 guests. The pingg Designer Studio is a self-serve design tool that enables content creators to offer customized collections of their work on pingg. This gives artists, invitation designers, charities and brands an easy way to share their invite and ecard designs. It also enables them to promote their websites, blogs and Etsy stores to pingg users, reach a new audience, and generate new business opportunities.
"As a stationery designer for pingg, I have enjoyed being able to offer my designs in a digital format as online cards and invitations at an affordable price, while creating awareness for my brand." Says pingg Plus designer Heather Cowdell. "In addition, the support and encouragement of the pingg community has exceeded my expectations. Through pingg I have been introduced to some amazing and talented designers."
With the launch of the pingg Plus Designer program, pingg.com is establishing itself as the online destination for artists, charities and brands looking for new ways to monetize creative content, extend their reach, while simultaneously providing premium content to design-savvy hosts.
About pingg.com:
pingg has connected with a worldwide community of amazing artists to bring hosts unique designs for their personal and professional events. With pingg you can send invitations via email, postal mail, and social networks, and seamlessly track and manage all of your guests' RSVPs from a single location. pingg also offers pingg Plus, a package of premium features, including ad-free, digital envelopes, premium designs, personalized event web page URLs and more. Based in New York City, pingg was founded in 2006 and has grown into a vibrant community of artists, brands, charities, event hosts, and their guests.
Find us on Twitter and Facebook:
http://www.facebook.com/pingg.wellsent
pingg Contact:
Laura Adamo
646.277.7346
###