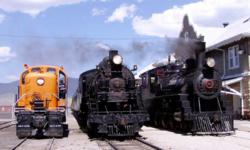 "Where else can you go out on the mainline in control of 100 tons of steam locomotive or iron horse?" said Mark Bassett of Ely, Nevada.
(PRWEB) July 19, 2011
It's not your traditional museum but rather a one-of-a-kind interactive experience where you can even put your hand on the throttle of an original steam locomotive. Take Nevada's Hwy 50 across the historic Pony Express Territory to Ely, located 350 miles east of Reno and 240 miles north of Las Vegas and discover the Nevada Northern Railway.
True to this area's history, it's a rare opportunity of a lifetime to operate and ride on an authentic working train. Some of the Nation's most historical trains continue to operate at this railway with technology passed down through the years. To see and hear the trains, Nevada Northern Railway (NNRY) started its own Nevada Trains youtube channel.
"My engine, Number 93, a 1909 Alco 2-8-0, was laboring upgrade. I pulled out the throttle…a moment later, the engine responded by biting into the rail, the stack talking, the engine chuffing. Then time to whistle for the tunnel. I did that. My hand. My decision," said Bill Hawkins, teacher from Tucson, AZ.
NNRY is Nevada's newest National Historic Landmark (one of only seven in Nevada). Known as America's best preserved short line, it's a complete operating rail facility. A variety of interactive engaging railroad experiences take visitors back a century as they climb aboard a narrated steam powered passenger train, take the throttle and more. See it here: Nevada Northern Railway Live Web Cam.
NNRY has been described as gritty and dirty smelling of coal smoke, creosote and sweat. Locomotives whistle off, cars clang as they are coupled together and wheels squeal as the locomotive is turned on the wye. At other times it's eerily quiet, where the only noise is the wind and the hooting of the owl that lives in the coaling tower.
Executive director of the Nevada Northern Railway Museum, Mark Bassett said, "Where else can you go out on the mainline in control of 100 tons of steam locomotive or iron horse?"
The living museum features customized tours, a Vault that houses historical records from the early 1900's and the 1872 car used for workers with the original rippled glass and elaborate doorknobs. The museum is preserving the all-important human skills that created, ran, and sustained the railroad. "Here things are still made by hand; you don't go to NAPA for parts to a century old steam locomotive," said Mark Bassett. The 56-acre nonprofit museum is a world-class complex and features a variety of demonstrations of 19th century technology that is still used today.
Follow Nevada Northern Railway
Rent a caboose, themed train or take a steam locomotive cab ride. One and a half hour excursions travel 14 miles round trip with rates starting at $24 for adults and $15 for children (4-12 years). The museum collection consists of three steam locomotives, six diesel locomotives and more than sixty pieces of historic railroad equipment.
Ely with its hand-painted murals displayed throughout the town, is one of the six friendly communities along Nevada's Hwy 50 in the Pony Express Territory. The historic celebrity-favored 1929 Ely Hotel allows pets for $10 and is a museum in itself.
ABOUT THE PONY EXPRESS TERRITORY
Nevada's Pony Express Territory sits on 17 million acres of wide open space with 150 years of rich history, rugged undisturbed nature and black night skies. The Territory is where the Pony Express riders once galloped along its main trail, now Highway 50, connecting the six adventurous towns of Dayton, Fallon, Fernley, Austin, Eureka and Ely. Twenty years ago Life Magazine designated this section of Nevada State Highway 50 – "America's Loneliest Road" as it winds itself thru the 1,840 miles of land called the Pony Express Territory. For more information, call 1-888-359-9449.
###