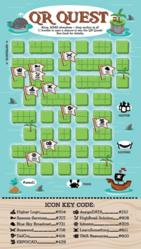 "To be a leader you must take the fear out of innovation," says Jim Kelly, COO, Syscom Services.
Washington, DC (PRWEB) July 27, 2011
Higher Logic™ and Syscom Services™ are proud to announce "The QR Quest" social media and mobile contest at the 2011 American Society of Association Executives (ASAE) Annual Meeting & Exposition being held in St. Louis on August 7-8.
Higher Logic and Syscom Services teamed up with nine association technology solution providers—Blue Sky Broadcast, Boxwood Technology, DelCor, designDATA, EXPOCAD®, HighRoad Solution, Informz, LearnSomething and TMA Resources—to creatively use mobile and social media technology to increase tradeshow buzz via various communication channels and drive tradeshow booth traffic in a never-before seen social experiment called The QR Quest.
"At Higher Logic we're all about innovation," says Rob Wenger, CEO, Higher Logic. "This year we decided to try something unique that has never been done before on an association tradeshow floor. Why not create a contest using mobile technology to simulate a virtual environment at a live event to increase booth traffic?"
Lauren Wolfe, Interactive Marketing & New Media Manager for Higher Logic and Jim Kelly, Chief Operating Officer for Syscom Services, are the brains behind the bold initiative to beta test this social experiment using social media tools, QR code readers and Twitter. The idea is similar to a typical tradeshow treasure hunt contest, however the QR Quest incorporates QR code and mobile websites to generate an online learning experience at ASAE's Annual Meeting.
The MAP will serve as the game card for the contest highlighting participating booths and designed to simulate the actual ASAE exposition floor. Attendees will visit the participating booths and check-in using their mobile to scan each booth's unique QR code. Each booth's QR code connects the attendee to a mobile website–the landing page of the booth--that features additional resources for that company and after the check-in, an online listing of the additional booths needed to complete the game. All attendees who have successfully checked into each of the 11 participating booths and submitted the completed MAP will be entered to win over $2,500 worth of prizes.
"Technology is changing the way we build relationships, but people create relationships," says Kelly. "The QR Quest is designed with people in mind. We hope this social experiment will not only increase traffic to all of our booths and bring attention to our new products and services, but create a platform for engagement among conference attendees. Let's give them something to talk about!"
For more information, please contact Lauren Wolfe, lauren(at)higherlogic(dot)com
###