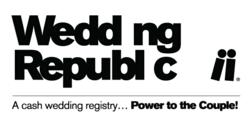 Weddings are changing and registries need to reflect that. Not everyone wants dish towels.
(PRWEB) September 08, 2011
Ottawa-based start-up, Wedding Republic, has released the full version of its online, cash wedding registry, targeted to tech savvy couples looking for gifts outside of traditional e-commerce and department store offerings.
"Control and customization are becoming increasingly available to consumers, particularly online. This should also apply to a couple's registry," said CEO Hana Abaza. "Users have told us they want the convenience, choice and control that a department store can't provide. Weddings are changing and registries need to reflect that. Not everyone wants dish towels."
After over a year of testing, customer development and market analysis, the company has released a dynamic and scalable platform largely driven by user feedback from couples and guests who used the beta version.
The first iteration of Wedding Republic was launched in February 2010 letting couples choose any gift they want, from kitchen gadgets to charitable donations. They assign each gift a price and post it to their unique registry page. Guests give cash towards specific gifts and the couple receives the money after their wedding.
The service is free for the couple while guests pay a 4.5 percent fee in addition to their gift amount. Most traditional registries charge a 7 percent delivery fee.
The release contains both enhanced and new features including:
A face-lift for the company's signature, Puzzle-Piece feature, which allows a couple to split big gifts – such as a big screen TV or honeymoon – into smaller, more affordable chunks.
An improved interface for the couple with some "nice-to-have" features including: dragging to re-order their gift list, in-line editing, and duplicating gifts with one click.
A guest management system where couples can invite guests to view their registry via social media, Facebook connect or custom email. This helps address the traditional wedding etiquette discouraging couples from including this information directly in the invitations.
Wedding guests can print a personalized gift certificate of their purchase to include in their wedding card.
A new tracking system where couples can see guest purchases in real time. They can also export the details making the thank you card process easier.
"The tracking page and gift certificates were the top two features our beta group had been asking for," said Abaza. "It was important to implement them in a way that made sense for all types of users from the couples tech savvy friends to "Aunt Ethel" who may not be as computer literate."
A sample registry can be seen at http://www.weddingrepublic.com/sample.
Past news and information can be found at http://www.weddingrepublic.com/press.
###