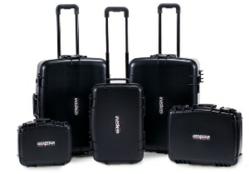 Eagan, MN (PRWEB) October 23, 2011
Packnet Ltd., a leading manufacturer and supplier of industrial custom packaging solutions, is now carrying Sentinel™ cases by Gemstar Manufacturing. The nearly unbreakable customized industrial cases are injection molded and easily transition from the field to the boardroom.
The Sentinel™ cases can be customized for specific needs, are easy to handle, and have a lifetime guarantee. The industrial cases come in many different sizes. Custom foam inserts are available for any case and Packnet also provides engineering and manufacturing of custom water-jet and die-cut foam to fit unique needs. The foam types include: beaded and extruded polyethylene, ether and ester polyurethane, anti-static/conductive, and crosslink neoprene foams.
The Sentinel™ cases can be purchased on line at http://www.packnetltd.com/ordergemstar.html.
Packnet continues to increase its comprehensive selection of reusable packaging containers including; PermaPal™, an innovative pallet container for shipping and storage, Buckhorn Maximizer™, a collapsible container system and Slotlock™, a container that can be set up or knocked down in seconds without staples, nails, screws, or hardware clips. Packnet is the leader in industrial packaging and container solutions that provides the industry with safe and cost effective methods for handling products.
For more information, call Packnet at 855.814.5147 or 952.944.9124, or visit http://www.packnetltd.com.
About Packnet Ltd.
Packnet Ltd. is a privately owned company headquartered in Eagan, Minnesota. Packnet specializes in custom packaging solutions. Solutions include wood crating, custom foam packaging, corrugated plastic packaging, corrugated fiberboard, custom industrial carts, shipping cases and reusable packaging solutions. The company also provides large format precision cutting services such as CNC routing, die cutting, panel cutting, and water-jet cutting.
###