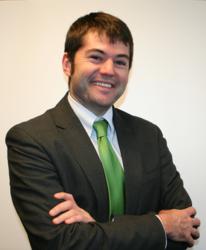 Criminal Defense lawyer Colt Holmes joins Ruane Attorneys - Connecticut's largest criminal defense firm
Hartford, CT (PRWEB) October 27, 2011
Ruane Attorneys, Connecticut's largest criminal defense firm is pleased to welcome recent University of Connecticut School of Law graduate Grayson Colt Holmes to the Connecticut DUI defense team in the Hartford Office.
Grayson, who more informally is known as Colt, was a member of the school's prestigious law review, is published as the author of "The New Employment Verification Act: the Functionality & Constitutionality of Biometrics in the Hiring Process," 43 Conn. Law. 673 (2010) and has also served as a clerk to The Honorable Michael Sheldon, who was recently appointed to the Connecticut Appellate Court by Governor Dannel Malloy.
"We had worked with Colt as a second and third year law student and knew the quality of his work and dedication to our clients. We knew that if the opportunity arose, he would be a great addition to our firm," says Jim Ruane, past president of the Connecticut Criminal Defense Lawyers Association and senior partner. "Colt's enthusiasm reminds me of how important our job is, and I look forward to teaching him the trial skills he needs to be the best criminal lawyer he can be." In his third year of school, Colt served as the Legislative Liaison to the Connecticut General Assembly for the Connecticut Criminal Defense Lawyers Association.
Colt is a 2007 graduate of the The University of Georgia. He will be sworn into the bar on November 7 in Hartford, CT
###