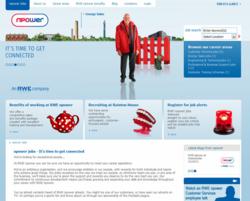 The new website will play a key role in supporting RWE npower's new direct sourcing recruitment strategy.
London, UK (PRWEB UK) 21 November 2011
4MAT is pleased to announce the launch of a new career and graduate website for RWE npower - http://www.npowerjobs.com. The new website will play a key role in supporting RWE npower's new direct sourcing recruitment strategy.
The new site uses 4MAT's DV3 recruitment website platform and the latest generation in website design and technology with an aim to provide a personalised experience and offer more information and engagement with the company from the offset.
Vacancies are posted to the career website and automatically associated with relevant videos, employee insights, blogs, information, news and similar roles to provide additional information to potential candidates. Content is personalised to the visitor in a manner normally associated with online retail. Blogs and social media will support RWE npower's ability to attract the passive job seeker.
The website will incorporate advanced search engine optimisation (SEO) to ensure that vacancies appear on search engine results. Vacancies are posted to the career website, which generates advanced vacancy SEO and content is automatically linked based on key criteria, such as job family or role and location.
Adam Templeman, Resourcing Manager at RWE npower hopes that the new site will help the organisation in a strategy that aims to increase direct employment, have more engagement with candidates from the beginning of their recruitment journey, and reduce expenditure on agencies. Templeman says "We want to have much more engagement with potential candidates from the very beginning. This new website allows us to offer more information on both the company and the job roles available, and ultimately gives us more control over the recruitment process."
We want to have more of a partnership approach with agencies in the future," he said. "I know that agencies can add a huge amount of value in recruitment but this step will provide us with a much more efficient way to manage recruitment costs and processes."
David Johnston, Corporate Web Consultant at 4MAT says "Changing jobs can be a stressful experience and as individuals we want to research companies and opportunities before applying. When you order goods online you can easily view similar products and relevant information. Candidates are consumers and the same experience should apply when looking for a vacancy."
RWE npower, an integrated energy company, offers a diverse number of roles across its businesses in power stations, contact centres, offices and customer facing teams, as well as Graduate and Apprentice training schemes. They chose 4MAT for this project, one of the first of its kind in the corporate recruitment industry, due to their extensive experience in recruitment web design and marketing.
The well-designed career site has a modern, seamless integration using LumesseTalentLink Applicant Tracking System (ATS). This provides npower with an improved ATS integration: candidates apply directly into TalentLink without any noticeable change to their experience and it retains all of the benefits of an integrated ATS.
For more information read the RWE npower case study.
END
4MAT is a full-service marketing agency providing brilliant websites and marketing services to recruitment consultancies and corporate employers. We help our clients to succeed by providing expert marketing services, creative ideas and well-crafted technological solutions. To contact 4MAT regarding your recruitment marketing needs please get in touch with David.Johnston(at)4MAT(dot)com or call 0207 247 9494.
RWE npower is an integrated energy business, generating electricity and supplying gas, electricity and related services to customers across the UK. We operate and manage flexible, low-cost coal, oil and gas-fired power stations - generating over 10.3 GW of electricity. We serve around 6.5 million customer accounts and produce more than 10% of the electricity used in England and Wales. Amy Rynn, npower press office: 0845 070 2807.
###