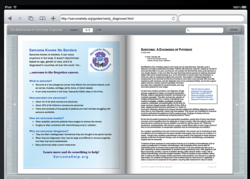 The guide's articles encourage patients through the process of diagnosis, treatment and survivorship.
Ossining, New York (PRWEB) November 15, 2011
The Liddy Shriver Sarcoma Initiative is pleased to announce the publication of the ESUN Guide for the Newly Diagnosed, a collection of articles that will empower and encourage those who are new to sarcoma. Information in the guide has been reviewed for accuracy by sarcoma experts and published online in the Electronic Sarcoma Update Newsletter (ESUN).
Now, for the first time, ESUN articles that are helpful for new patients and their families have been compiled into an electronic book that is feature-rich and easy to use on virtually any screen. The guide's articles encourage patients through the process of diagnosis, treatment and survivorship, providing tips on coping with treatment side effects, seeking medical assistance and social support, and dealing with the uncertainties of the sarcoma journey.
The new guide makes use of technology that allows for easy navigation, zooming, and printing on laptops, desktops and tablet computers. A special edition is available for the Kindle, Nook and other eReaders.
The initial response from the sarcoma medical community has been positive, and specialists have described a shortage of this kind of information at sarcoma programs around the world. Physicians and nurses are planning to share the full-color ESUN Guide, both on screen and in print, with their sarcoma patients.
In addition to the new guide, peer-reviewed ESUN Guides to 18 Sarcoma Subtypes are now available for the medical community.
Background
When the Liddy Shriver Sarcoma Initiative was first formed in 2003, most medical centers did not provide Internet access to their patients, and cell phones were rarely used to browse the Internet. Devices like tablet computers and smartphones did not exist.
These days, many sarcoma patients and their families walk into waiting rooms carrying digital devices that can be used to read books and browse the web. Those who do not have a device may receive one at check-in, or they may find a computer kiosk available to help them pass the time. Unfortunately, most digital and printed cancer information is not specific to sarcoma and does not address the needs of those affected by the disease.
Sarcoma is a rare and dangerous cancer that affects people all over the world and in all parts of the body. A disproportionate number of children, adolescents and young adults are diagnosed with sarcoma each year.
The Liddy Shriver Sarcoma Initiative's volunteers are dedicated to providing support and information that will meet the needs of today's sarcoma patients, their families, and their medical teams. The Initiative also funds cutting-edge sarcoma research in order to combat the disease on every level. The Initiative maintains an active Team Sarcoma Facebook Group and a comprehensive website at SarcomaHelp.org.
# # #