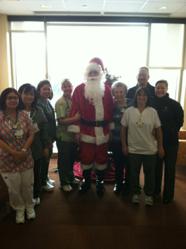 LifeStorage hopefully brightened the lives of some children and did so at an amazing hospital
Elgin, IL (PRWEB) December 16, 2011
LifeStorage, Chicago self storage provider for home and business, records management and office solutions, made a special toy run from its Elgin location this past Friday, December 9th, to Sherman Hospital located at 1425 N. Randall Road, Elgin, IL. The LifeStorage team, organized by LifeStorage Elgin Store Manager Paul Menzel and led by Santa Claus, visited the pediatric unit and emergency room (ER), providing sick and injured children some holiday cheer with newly purchased toys from the LifeStorage coffers. Some of the baubles and trinkets included Barbies for the girls, monster trucks for the boys, and special toys for those children that have severe injuries or serious illnesses.
For Menzel, this was the second time he set upsuch an event and he found the entire experience not just gratifying, but personally enriching as well. "Over all the visit went very well. We visited roughly 10 kids that were there as well as several staff members. We walked around the hospital and greeted most of the staff to wish them a Merry Christmas too," Menzel said. "One of the highlights was when we knocked on one boy's door and asked if Santa could come in to wish him a merry Christmas. The boy ripped the curtain open yelling 'Santa's here? Santa's here!' He had a huge smile on his face the entire time. It meant a lot to me to be able to make the kids smile and to let them know that, even though they aren't going to be home with the family for Christmas, that doesn't mean that Santa didn't know where they were."
Menzel also stressed that his position at LifeStorage, particularly the support of his peer and co-manager Ken Parelius, allowed him to pursue this opportunity to leave his four walls and give back. "When you have a good partner working with you at your location it makes it a lot easier to do these types of community events. Having trust and confidence in your co-manager is key to being able to get out and spread the company name around. In this case, LifeStorage hopefully brightened the lives of some children and did so at an amazing hospital," said Menzel.
This event is just one of the many charitable endeavours LifeStorage has participated in this holiday season. LifeStorage has a company-wide effort with the Toys for Tots charity, and held a variety of clothing and food drives and many of its Chicagoland locations. This toy run is just another in the continuing efforts that LifeStorage and Menzel hope to make not just this year, but in the following years as well.
"This is something I would like to continue doing every year, if possible. There are not only kids in Hospitals that need this type of help, though. There are lots of other organizations that could really use help this holiday season. If more people would help out life would be much easier for everyone. Good things come back to good people. Good business comes back to good businesses," Menzel said.
###